How the first-time UP rural voter will vote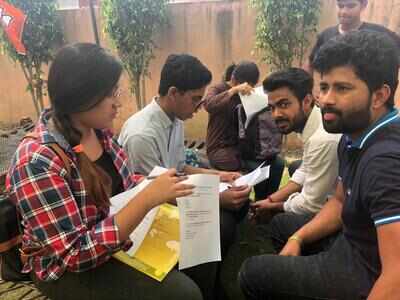 Tanya Goel and Satvik Suresh Iyengar, first-year BJMC students interviewing first-time rural voters
By Anshika Kathuria
Hindi newspapers and the opinion of village elders are the two major factors that influence the voting decision of the first-time rural voter. This insight is based on the interviews of more than 60 first-time rural voters of Jewar, Uttar Pradesh (UP). The interviews were taken by the first-year students of
Times School of Media
during the campaign trail of Lok Sabha candidate, Union Minister of State for Tourism and Culture,
Dr Mahesh Sharma
.
First-time voter, Ravi Sharma, 19, who is a resident of Faleda Bangar village in Jewar, UP, said "We rely on newspapers and our village elders in deciding who the village will vote for." Faleda Bangar village, which is an hour from
Bennett University
, and has a population of 7,000 people of which 5,500 are voters.
Rinku Singh, 18, resident of Tirthali village, said that he would vote where his father decides to vote. "My family decides who to vote based on the opinion of the head of the family or the elders of the village."
But Arvind Rajput, 19, another first-time voter, is an exception. He follows Instagram in addition to reading the Hindi newspapers. Rajput, who hails from Tirthali village, is studying B. Tech at Gautam Buddh University. He said that while he watched Hindi news and read newspapers daily, he also surfed the Internet a lot. "I found out about Mission Shakti from Instagram. Political messages on social media platforms influence me and my decision will not be entirely based on what the village elders say."
Young men such as Rajput and Sharma are among the 12.6 lakh young voters in Uttar Pradesh who are being wooed aggressively by political parties. Clearly, political parties can reap benefits by winning over this young population.
But what are the expectations of the rural youth from the new government? Lokesh Yadav, 19, from Tirthali said that he would vote only for a party that delivered on its promises. "I expect the new government to develop our village, build roads, hospitals and colleges," he said.
The village pradhan of Faleda Bangar, Bholu Sharma, said his village still needs a nurse and a doctor in the healthcare centre. "We also hope a gaushala will be made in our village," he added.
While not all promises have been fulfilled by the present government, Rajput is crystal clear about the party he would vote for. "My vote will go to BJP, because I have seen substantial difference in UP ever since Yogi Adityanath has come to power. Roads, colleges, hospitals are being built and there has been a lot of development. Modi ji doesn't play dirty politics based on religion and caste. This country seems to be headed towards the right direction under his leadership."
When asked about what the BJP had done in the last five years in Uttar Pradesh, Dr Mahesh Sharma said, "Uttar Pradesh now gets 18 to 20 hours of electricity, compared to the six hours it used to get. The BJP government has laid the foundation stone for 81 projects worth Rs 60,000 crore across various sectors such as renewable energy, infrastructure, power, IT and electronic manufacturing and tourism in the state; Jewar International Airport is being built, and the proposal for two Degree colleges in Jewar has been approved. Also, Uttar Pradesh's biggest solar power plant of 75 MW (101DC) capacity in Mirzapur was inaugurated recently."
This is certain that rural youth want only one thing: results. Today's youth will not cast their vote based on hearsay or promises, but on the issues of development, delivery and results.