Igniting dreams: Orientation sets the stage for an enriching journey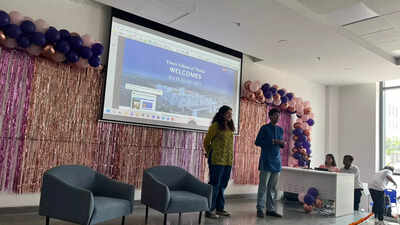 By Pakhi Dave

In a spirited inauguration ceremony, Bennett University welcomed its new batch of students of 2023 with a dynamic day 1 orientation. The occasion was hosted by Chirag Kalra and Vidisha. The ceremony started by lighting the ceremonial candle by the Times School of Media's Dean, Dr. Sanjeev Ratna Singh, and Rudra Kasturi, the Chief Growth Officer at Times Internet.

The stage was then commandeered by Dean, TSOM, who delivered an inspiring address, offering insights and motivation to the eager freshers as they embarked on their educational journey. Following this, the gathering was privileged to hear from Rudra Kasturi, our chief guest, whose discourse centered around the utilization of Artificial Intelligence (AI) in the appropriate context. Kasturi further emphasized the institution's commitment to establishing cutting-edge AI labs, fostering an atmosphere of innovation.

Enthusiastic cheers erupted as the faculty of TSOM was introduced, highlighting the reverence and anticipation for the upcoming academic year. The students were subsequently divided into groups, each accompanied by faculty members, to explore the university's advanced laboratories and studios, offering a sneak peek into their learning environment.

After an invigorating lunch break, the second half of the day sustained the same fervor. RJ Divya, a popular radio personality at Radio City 99.1, engaged the freshers in a lively and interactive session. Her mantra of "take it easy" reverberated as she urged the students to find joy in their college experience while striving for excellence.

The day concluded on a high note as the freshers enthusiastically grooved to the beats of the trending track "Badal Barsa Pani," accompanied by the hosts. The event proved to be an exceptional prelude to what promises to be an eventful and enriching academic journey for Bennett University's new cohort.

With an infectious atmosphere of excitement, motivation, and camaraderie, the day 1 of the orientation programme undoubtedly left an indelible mark on the hearts and minds of the freshers, setting the stage for their years ahead.