'Journalist must factor in different narratives on J&K'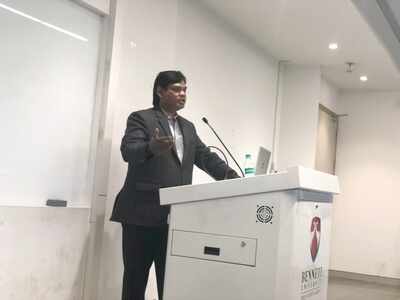 A true journalist is one who's aware of different narratives surrounding a complex issue in order to be objective in his reporting. "One needs to educate oneself on how to report from places like Jammu and Kashmir, where one's chances of getting injured are high," said David Devadas, an Indian journalist and author of several books on the Kashmir issue.

He spoke to mass communication students of Bennett University on how to report from conflict zones. During the interactive session, Devadas spoke about the Kashmir issue, its history and the current scenario. During the talk, he shared his knowledge of and insights into the issue with the students.

From ancient times
David emphasized that to report any issue, it's important for the reporter to know the history and background of the issue. Talking about the history of Kashmir, Devadas started right from 1846 when the British imposed the cost of the war on the maharajas who lost the battle fought in the same year. As time passed, the maharajas kept changing and the British government started having a huge influence on the state. He presented a timeline on how Kashmir evolved and what was the idea behind every small action taken for the state.

Different sides to one story
He mentioned that as a budding journalist one should be aware of the fact that it's not going to be a smooth journey. One will have to face complex situations and each player will have their own narrative regarding the issue.
"With the various points of view, it gets difficult to deliver facts and figures to the audience. The same person and same phenomenon can be viewed in different ways. That's why knowledge and experience are necessary and gaining that experience is even more important," he said.

Powerful impact
Talking about the role of the media, he said that its role is to deliver information to the people and has a strong influence on people. Media can also be termed an influencer now. Many judges and officers also read reports and form their opinions.

"If you become a successful journalist and you end up in a complex situation, you will represent some voice and ideology. Always try and make it lucid, so that it reaches a greater number of people, otherwise, you'll just be an echo-chamber and create more complex issues," he said.

He addressed some of the burning questions which students had regarding the issue. He also signed copies for the students who purchased his book. "The guest lecture was amazing, we learned all about the Kashmir issue, especially the historical background and how world powers have benefited," said Manvi Singh, a second-year student of BA(JMC).