Lights, camera, orientation: TSOM's cultural spectacle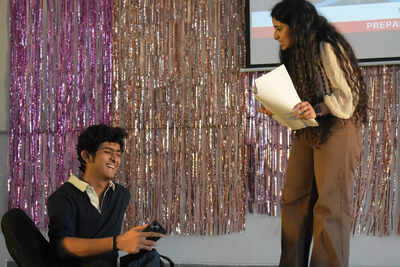 Rahul (Priyansh Pabreja) and Anjali (Sanya Bhattacharya) bring Bollywood magic to life in the college skit. Photo courtesy: Kamakshi Deshmukh
By Vanisha Rajesh Singh
Bennett University
's
Times School of Media
left a remarkable imprint on its fresher's
orientation
with a captivating second-day event brimming with cultural performances and engaging activities. The vibrant event was hosted by senior students Piyush Kumar Jain and Ashvin Soin who took the students on a journey to an energetic and inspiring campus life.
A stand-out moment of the day came courtesy semester 3
BAJMC
students, who skilfully presented a cinematic portrayal of college life, infused with the charm of iconic
Bollywood
characters like Rahul (SRK), Anjali (Kajol), and Amitabh Bachchan. The theatrical rendition garnered thunderous applause from the exuberant crowd, showcasing both the students' creativity and the audience's enthusiasm.
The day sparkled with dazzling talent of
freshers
who also took the stage in a face-off. Ambika Jain's rendition of "Kho Gaye Hum Kahan" resonated emotionally, while Shreya Kiran's stand-up comedy left the audience in splits. Prithvi Abhay's original composition "Voices in My Head" stirred hearts and Ankita Dwivedi's soulful poem left a poignant impact. Ashiti Jha's graceful classical dance performance added a visual feast to the eclectic mix.
Amidst the festivities, Maitri Bansal, another semester 3 BAJMC student, orchestrated an interactive pop quiz for the newcomers. The quiz rewarded participants for identifying radio tunes, guessing Bollywood songs, and nailing the dance steps of trending tracks. "There's incredible potential within each fresher, and I sincerely hope for their prosperous journey in the realm of media," Maitri said.
The evening came to a crescendo with an enchanting musical performance that led to a sea of flashlight-lit moment among the audience, uniting everyone in a shared euphoria.
Taking a thought-provoking turn, semester 3 BAJMC Hindi and Bachelor of Arts in Film, Television and Digital Production (
BAFTW
) students portrayed the modern sway of
social media
on our lives. Through an engaging skit, they highlighted the blurring lines between real and reel existence. While urging the incoming students to embrace media studies and delve into the intricacies of the industry, they also encouraged a balance by spending quality time with family and friends, effectively drawing the line between the digital and the tangible.
The festivities concluded with a pleasant high tea, offering a moment of relaxation for both the students and the Faculty. The event not only celebrated the cultural diversity of the campus but also provided an apt platform for freshers to get acquainted with the colourful array of media studies at Bennett University.
As a new chapter unfolds, Bennett University's Times School of Media has truly prepared the foundation for an exciting and fulfilling academic journey for its newest members.
(The writer is a Semester III student of BA (Journalism and Mass Communication)