Lionesses vs La Roja: FIFA WC final preview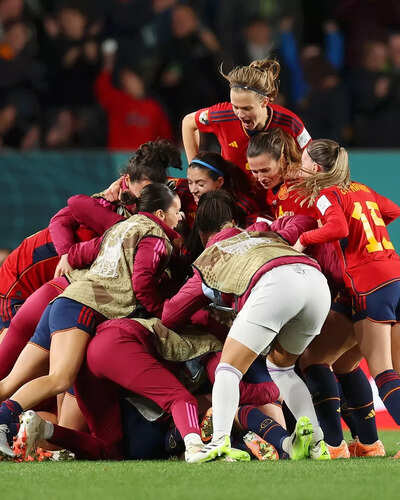 Spain will look forward to playing their first-ever major final. (Photo Courtesy: FIFA Facebook)
By Rishi Bhushan

The defensive walls of England will be tested by the attacking prowess of Spain in Sunday's FIFA Women's World Cup final. It will be a battle between two nations where football isn't just a hobby or pastime but a way of life. After an intense 28 days and 68 games, the world will witness the making of history as a new first-time champion will bathe in glory.

The tournament, arguably the most entertaining Women's World Cup, had been full of surprises and shock. The favourites – United States, Germany, and hosts Australia all fell before the finalists. Even though all these teams looked superior on paper, they lacked one thing: grabbing the opportunity at the right time. These two teams have faced each other 11 times since 2007 with the Lionesses leading the head-to-head tally 6-2 (3 draws). England also won their most recent meeting with Spain in Euro 2022 quarterfinals which England went on to win. Also, interesting to note is the fact that this will be Spain's major final in their history.

As they say, the worthiest winners are often tested the most on the fly. England's and Spain's campaigns were far from seamless. England's prep was wracked with injuries with captain Leah Williamson and stars of their Euro-winning campaign injured. Spain's coach, Jorge Vilda, also started the campaign without key players who refused to play in the tournament after writing complaints against the coach. Spain was torn apart by Japan in the group stages but came all guns blazing against Switzerland. England too looked shaky in its first group matches after surviving a penalty scare against Nigeria and winning against Colombia after being a goal down.

This match will not only be contested on the field but also on the tactics board of the coach. Both teams have a different style of play. La Roja's tactical identity is built around keeping the ball and possession-at-all-costs kind of play. They have an average of a whopping 70% possession in knockout stages. The Lionesses love to play defensively and might trample Spain with their relentless physicality. Most probably England's coach, Sarina Wiegman, will field a 3-4-1-2 formation to answer Spain's offensive 4-3-3.

One Spaniard to look for is the teenage sensation, Salma Paralluelo. Spain made light work of Switzerland thanks to her. This 19-year-old Barcelona striker can shift gears through the game and step up when Spain needs it the most. But Salma has only been used as a substitute in this world cup. England's already stacked midfield will also get a boost with the return of Lauren James who did not feature in the last two matches due to suspension. Sarina will face a difficult decision of whether to start the returning Lauren or keep the in-form replacement of Lauren, Ella Toone.