Luck against experience at BU's Inter Volleyball Match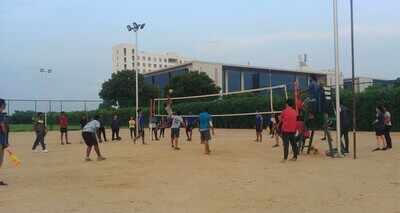 By Devyani Verma

The Foundation Batch of 2016 at Bennett University (BU) won against their juniors in a tie-breaker round at the university's first Inter Volleyball Match on August 1, Thursday.

The match which was organised by the Sports Committee, held in four stages, was a tough battle as the seniors took the lead in the first round, with a score of 25-21, but were met with a harsh defeat in the second as the juniors strengthened their defence.

"We managed to overpower the seniors once, however luck can't always be on our side when experience is on theirs," said Kushal Challa, Captain of the BU Volleyball team.

With continued support from the both teams and the audience, Kushal and the former captain, Sri Sai Krishna Kaasyap coached their teams to score 17-25 and 25-27 in the following rounds, until the match transitioned into a deuce session as both teams reached a tie breaker.

The final win was bagged by the Foundation Batch as they delivered a power hit that broke the tie of 24 points. "The match held between the soon-to-be graduating seniors and my peers was not much of a competition, but more of an expression of the love and friendship between the team," said Smriti Negi, female representative of the Volleyball team.