Making friends on Bonfire Night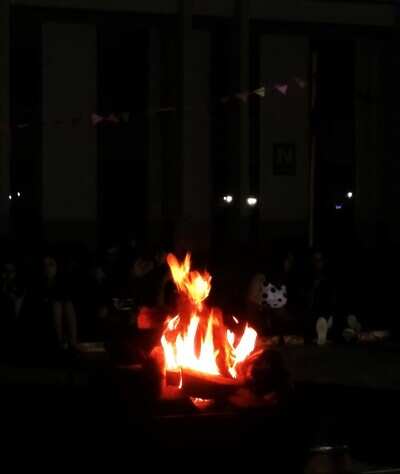 By Devyani Verma

To celebrate the victory of semi-final qualifiers at the Sports Fest, Bennett University hosted its Bonfire Night on the eve of 28 September, Friday. The event was organised by the Sports Committee of the university, in collaboration with BU's music club Advaita, as a relaxing late-night activity for the winning participants from Bennett University and other competing colleges.

"With the Bonfire Night, we hope to provide a warm and positive environment for the teams and the volunteers who have made this fest a success," said Smriti Negi, representative of Women's Volleyball at Bennett University and a member of the organising committee for the Sports Fest.

The Sports Fest 'Expedite' was an inter-college sports competition organised by Bennett University, where over a dozen colleges had participated, such as Ashoka University, Laxmibai National Institute of Physical Education and Shiv Nadar University. "I am thrilled to be a part of Expedite and proud that we played as a team," said Kushalchalla, Volleyball Captain of Bennett University.

Students and participants relished in the warmth by the bonfire, singing along to the music and sharing cozy moments with their friends. The band, comprising of singers and guitarists from BU's Advaita Club, along with the crowd jammed to music of all genres and moods – from Atif Aslam's ' Aadat' to Dev Anand's ' Khwaab ho Tum', and from Ed Sheeran's ' Perfect' to Eagle's ' Hotel California'.

The evening also saw a few people waltzing around the fire as they enjoyed the moments under the stars. "The night had a rather comforting and relaxing vibe to it. We were singing our hearts out while gazing the stars, making sweet memories with our friends," shared Vaishnavi Gupta, a journalism and mass communications student at Bennett University.

The magical night ended with the song ' Tera Jaisa Yaar Kaha', played as a token of gratitude to Pratima Singh, Sports Officer at Bennett University.