Marketing morning, cultural noon at TSOM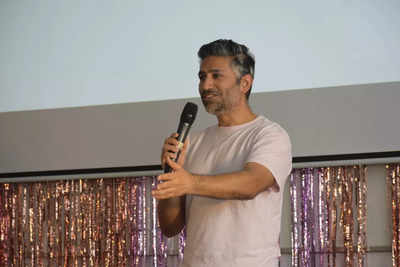 Fresher Ashiti Jha receiving a reward for her title as the 'Best Kalaakar' from Prof. Meena Shirodkar.
Photo Credits: Kamakshi Deshmukh
By Pranavi Ambati
From a guest lecture on creativity in marketing, to an afternoon of cultural events - Day 2 of the
freshers
'
orientation
at the
Times School of Media
was as diverse as the media mix out there. Efforts worth an entire week saw their culmination on 26 August 2023, resulting in a show of applause.
Morning with Mayur Hola, CMO Subway

Freshmen at the Times School of Media got an excellent opportunity to learn from Mr. Mayur Hola, Chief Marketing Officer at Subway. Centering his address on the theme of 'Creativity in Marketing: The New Frontiers',
CMO Hola
stressed on the transformative power of 'earnt media' as opposed to 'paid media'. Sharing case-in points from his work at Subway and his former stint at OYO, CMO Hola spoke at length on the effective curation of social media posts to prompt greater
engagement
, which ultimately paid way for user-led marketing.
"Among all these tweets here, not one is posted or planted by Subway. These are all people's words put out on social media. What we did was wait for them to gain enough traction, which they did and once the engagement was deemed about right, we interacted with them on our main handle," he said, as he shared Subway's digital marketing that understood the demands of the algorithm, and used it to their advantage.
Thus, it was also only right for him to advise students to upskill and learn how to employ AI tools, while emphasizing that at heart, communication must involve a human story with human emotions.
Students - freshmen and seniors on the organizing committee - had many questions to ask of him, ranging from how certain brands own conversations, to an amusing query about his favourite football team.
Afternoon of performances & delight
Post-lunch lazy was all but missing as the orientation hall was filled to the brim with a sea of talented freshers and seniors. Starting off with an invocation of Lord Ganesha,
Bharatnatyam
dancers Shreya Chougule and Nimisha Gupta sent the audience in awe with a beautiful depiction of Mahabharata. Their performance was followed by a short skit by Semester-3 BAJMC students that drew on Bollywood's portrayal of budding college romance. Singing choir and dance troupe were also featured in the line-up.
There was no dearth of talent as the freshers too took to the stage and displayed their fortes; Shreya Kiran put on a stand-up comedy, while Prithvi sang an original composition 'Voices in my head' to the strums of a guitar. Ashiti Jha was announced the 'Best Kalakaar' for her graceful footwork and lively expression to the track 'Ghar More Pardesiya'.
Adding a refreshing twist to Bollywood film concepts with usage of social media for the plot, students of Semester-3 BAJMC Hindi Language put on a play which they titled 'Social Voshal'. Their entertaining employment of classic dialogues from films like Sholay and 3 Idiots was received with much enthusiasm and mirth.
Onward a path of learnings
Dr. (Prof.) Gauri Chakraborty, faculty for BA Films, Television & Web Series, delivered the vote of thanks, congratulating the entire student team and the technical staff for their hard work. She beautifully captured the 3 hour long cultural show in her words, "In media, art is not extra-curricular; it's co-curricular." Her statement found resonance in the applause that the hall broke into. To each individual's much appreciation, a high-tea with a buffet of delectable dishes drew curtains on the long but lovely day.

(The writer is a third-semester student of the BAJMC programme.)