New York Film Academy Masterclass on screenwriting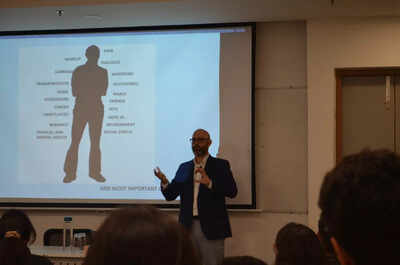 NYFA vice-president Sonny Calderon explains the accessories by which a character can be identified. Photo by Mohak Kapoor

By Rishi Bhushan

With an aim to providing aspiring screenwriters insights from industry professionals, The Times School of Media organised a masterclass on screenwriting which featured Sonny Calderon, New York Film Academy's vice-president of academic affairs.

Calderon affirmed a fundamental point of not making the main character too idealistic and good. "This is a mistake many young screenwriters make. A good writer can write a character that has flaws and yet the audience root for him to win in the scenario. If your main character is way too good, I don't want to wee him. I need him or her to develop and overcome his flaws through the film," Sonny said.

Another important thing to remember while writing the script, Sonny pointed out, is to compare the wants and needs of the character. A want is something the characters strive for and the needs are part of their personality that will complete them. He also apprised the students about the 'tap-on-the shoulder' technique in screenwriting. In a hypothetical scenario, the character should be able to tell what he wants.

Character and theme are two important aspects of scriptwriting that should be explored extensively by the writer. "A leaf falling from the tree can have a very different theme than just the fact that it's falling. It can signify the timeline of our life or the life-death scenario but the character remains the same, the leaf," Aditya Pandey, a second-year BAJMC student, said.

Calderon stated that it is not necessary to reveal the theme from the beginning but it should resonate with the character throughout the film. The one rule above all things is to 'not be boring'. A script has to be engaging and should keep the audience wanting more throughout the film.

The attendees were treated to an engaging session that covered a range of topics including the fundamentals of screenplay structures, character development, dialogue writing and importance of understanding gestures and accessories in the films. "Be smart with dialogues. Let the accessories, gestures, hairs and other things define your character and dialogues reveal something more interesting," Calderon said. He also stressed the point that nothing should happen in the script without the character making a decision and acting on it.