Motilal beat Bennett in Expedite Volleyball final match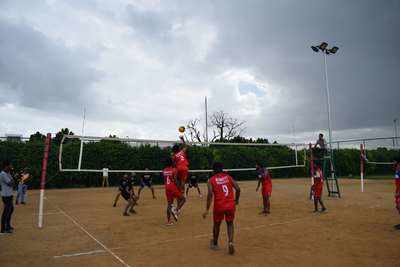 Motilal Nehru College beat hosts
Bennett University
in a thrilling volleyball match on 29th September to emerge winners at Expedite 2019, the inter-university sports meet that had 400 athletes from across the country.
Some universities that participated in the event were BML Munjal University, Sharda University, Ashoka University, Gautam Buddha University, Shiv Nadar University, SRM University, Amity University, KIET, Lakshmibai National Institute of Physical Education Gwalior, Jaypee Institute of Information Technology, Galgotia University, GNKU, Maharaj Vinayak Global University Jaipur and Motilal Nehru College. The sports fest had matches of basketball, football, volleyball, and badminton.
The third day of the sports fest began with volleyball home team competing against Motilal Nehru College for winning the trophy. Both the teams were ready to display their remarkable skills and win the final match. G. Kshetragna Rao, a volleyball player of Bennett University said, " We are all prepared to win the match today. We shall capitalize the advantage of being at our ground today." As the players were engulfed in playing, so was the audience engulfed in backing every hit.
There were three sets of the match. Motilal Nehru College registered a bonus point after beating Bennett University 20-25,14-25, 22-25 in front of a full house. Srikrishna Kaashyap, Bennett volleyball player said," I congratulate Motilal for winning the match. They played exceptionally well. I am happy as we worked hard to reach the finals."
Though Bennett University started the second set with more confidence than the first one still they were not able to match Motilal shot for shot. Srikrishna Kaashyap and G. Kshetragna Rao of Bennett University tried their best to turn the match in their favor but luck didn't favor them that day.
Amit Yadav, the captain of the volleyball team said, "The boys played well. The competition was neck to neck. But our rigorous practice helped us to win this match."
With the end of the match, Mohit Jhakar of Motilal became the highest scorer of the match.
Mohit Jhakar said," The arrangements of the sports fest are amazing. The competitive spirit was high. And it feels great to win and I hope to come back soon to Bennett and again win the match."
Pratima Singh, Sports Officer Bennett University said," Sometimes you need to accept the skills of the opponent. And yes, today Motilal was at their best. No doubt our team even played well.' Coach of Motilal Nehru College said," I feel proud today. The kind of comeback the boys have made is commendable."
The winners were awarded a cheque of Rs. 25000, medal and a trophy.