Own What You Do: Asur Director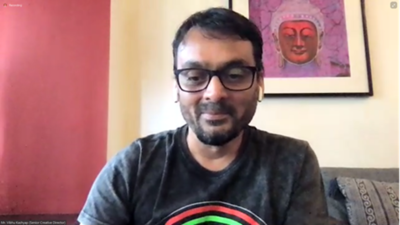 Asur Director Vibhu Kashyap
By Shalinee Mishra


"Own what you do," said
Vibhu Kashyap, a
Senior Creative Director
with VOOT, while interacting with BAJMC (BA in Journalism and Mass Communication) students at
Bennett University
on Tuesday, May 18.
Kashyap's latest accomplishment is the launch of 'Asur' on VOOT on March 3. The film has already become one of the highest rated psychological thrillers (8.5) on IMDb.
Describing his journey from films to television, Kashyap said, "Eitheryou know how to tell the story or you don't, the medium doesn't matter". Film or television, if you are not able to produce good content, engage and entertain people, then you will not be able to succeed fully in any medium.
"Alwyas say Yes to a project"
When asked why there are no breaks in his career, Kashyap said, "I always say 'yes' to the project, and then think about how to make it a reality". While taking up projects you can't tell if you'll be able to do justice to them. Having said that, unless you jump into the stream, you will never know its depth. So at least try and give your best before saying 'no'.
Regarding survival in the
film industry
, Kashyap pointed out that adapting to the situation and circumstances is extremely important, but one should own one's work and be true to it. "I was able to survive in the industry for almost two decades only because I own what I do, and I persisted in what I was doing".
Coming from Tier-2 city Allahabad, Kashyap doesn't believe in luck having a big role in success. He said, "Luck works sometimes but what pays off always is hard work." When he first came to
Mumbai
, he had to change his house 15 times in two and a half years.
Resilient to hardships
He said hardships had made him resilient. "Everyone doesn't have to go through it. I experienced the ups and downs of the industry alone for two decades as I was resilient."
Talking about his first advertisement project, which was on a thermal wear brand, he said, "In those days when a company wanted to get an advertisement film made, they just spoke one sentence, '
It's a woollen cloth brand and it should be funny'.
It's totally on the copywriter to formulate a script and do the creative. My ad film ran for 13 years on Indian television."
He said some advertisements/infomercials are 5 minutes long and give a generic slice of life rather than depict the company product. He cited Surf Excel,
Google
, HP as examples. "The arena has changed. With advanced cameras, anyone can shoot and post on platforms like Youtube and one should utilise the opportunity," he said.
"Be aware about your field"
To a question on the ideal software, Kashyap said it was more about hardware (meaning brains). He told students to watch films, documentaries, advertisements, get inspired, enrich their thoughts and create their own ideas. "It's about how well aware you are about your field, be it writing, direction or creatives," he said.
On content, Kashyap said it should connect with people. "People should be able to identify the character. You will be able to give your 100 per cent only if whatever you do resonates with your thoughts. Anything you do with your heart will always touch the hearts of people," he said.
He said that the
OTT
audiencewasruthless. "If they don't like your work then they will never come back and watch it, so forget about the next episode/sequel of the show," he said.
"The rise in short-form content like Tik-Tok videos or Youtube videos (snackable content) was never a threat to OTT platforms, every content has its niche," he said. OTT viewers are slightly different from Youtube viewers. Their viewing time is longer, and the platform has longer audience engagement.
When a 2nd-year BAJMC student asked him if any of his film ideas were rejected, he admitted that there were occasions in his career when the industry as well as his own teammates had turned down his ideas.
"There is no big deal in facing rejection because it doesn't mean your content was bad.Sometimes your content doesn't match the overall strategy of the project. You have to keep your energy high and bring better content next time, that's the only way you can survive in this cutthroat industry."
On how to approach directors and producers with their script, Kashyap told the students to first register their script online. "Secondly, you should be able to pitch your script in one sentence/Logline that summarises the entire content in a captivating manner," he said.
His advice on how to grow in the field was to download any classic film script online and see how it looks on paper and how it plays out on screen. "When you are stuck, go back to basics," he told the students.
At the end of the session, a student asked Kashyap about the Asur Season 2 release. Kashyap said that due to the lockdown in Himachal and Mumbai, the outdoor shoots kept on getting postponed, and now the showwill release early next year.
He said that a web series takes 10 to 14 months to complete from start to finish, depending on the complexity and scale of the subject.
To a question on the making of autobiographical films, Kashyap said that one needs to fictionalise the truth a bit to make the presentation interesting for the audience.
As an Assistant Director, Kashyap worked on three blockbuster feature films starting with Farah Khan's Main Hoon Na, Iqbal and then Dor. He was also part of the team that made Nachom-ia-Kumapasar, a Konkani language film which was shortlisted at Oscars in 2 category - Oscar Shortlist 2016.
After that the initial phase of his career, he independently directed about 30 television commercials, 10 music videos and more than 150 corporate films and AVs for almost all the major corporates like HLL, ICICI bank, Shoppers Stop Group AV, Bajaj Allianz, Oxyrich mineral water, Videocon, Kotak Mahindra Bank, Bharti AXXA, Castrol, Carl Zeiss Lenses, Sutherland BPO, etc.
Join exciting programmes offered by Bennett University