TSOM prepares students for corporate world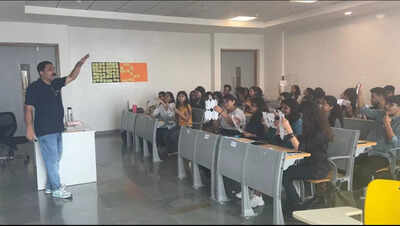 TSOM students engaging in fun activties at the Placement Preparedness Programme. By: Shagun Pandey
The first day of the Placement Preparedness Programme was divided in two halves, with the morning slot having discussions on decoding job interviews and cracking them and the afternoon slot addressing behavioural sciences and body language training.


The session was filled with fun activities and games to engage the students in learning about various parameters of placement. It was hosted by the Stalwarts of the Industry of consultancy services, Aftab, Behavioral Trainer, and Rajendra Kulkari, Founder and Director, Xplore consultancy services.


"It was amazing how things as simple as walking into a room can make an interviewer decide whether they wish to hire you or not. I always knew that your demeanour and mannerisms in the corporate world will be different from schools and colleges but learning and training for it in such intricate detail made me excited rather than fearful to experience what's out there," said Sasha Rastogi, final year, Bachelors of Journalism and Mass Communication.


The programme is scheduled to run for three days from August 21 to August 23 upskilling students with interview skills, group discussions, grooming, attitude management, personality development and more.


Sharing the expectations from the next two days, Aakriti Ghai, final year student, BAJMC, said, "I look forward to getting training to excel in giving interviews and even to grow as an individual. Today's workshop and the insights have helped in many ways. An extensive session on interview conduct in the coming days with one-on-one feedback will help in polishing skills to ace interviews and group discussion rounds."

Just like Ghai, all the other students of the Times School of Media look forward to attending the remainder of two sessions and gearing up for what's next in store for them. It is an initiative to give students a sneak-peak into the corporate world and make sure that they are confident and ready enough to conquer it.