Progressive education fronts V-C's I-Day address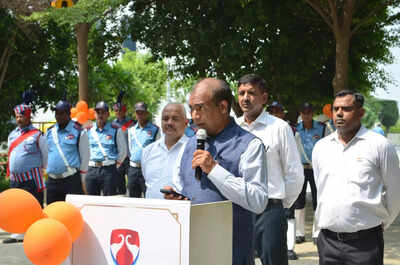 Dr Nidhi Sinha recites a couplet to capture the undying essence of liberty in her Independence Day address. Photo by Mohak Kapoor
By Pranavi Ambati
Vice-Chancellor Dr Prabhu Kumar Aggarwal and
Dean of Student Affairs
Nidhi Sinha kickstarted
Bennett University
's 77th
Independence Day
celebrations by highlighting the importance of
progressive education
as a tool to liberate the nation of social barriers.
Taking the podium, Aggarwal reminded the student body that it must never take freedom for granted. "We have gathered here today to commemorate the spirit of freedom that has guided our journey towards the progress we have attained today. As we celebrate our freedom fighters and their admirable courage, let us also reflect upon the
responsibility
that comes with living in a free and democratic India," he said, addressing the vibrant student cohort.
Highlighting the transformation that India has witnessed since the momentous night of declaring Independence, Aggarwal shared his insights on the outlook each
Bennettian
must hold when he steps out of the University, into society. "Our vision is not only to uplift the economy, but also to uplift every citizen and ensure that the benefits of growth reach the masses," he said.
With social empowerment as the goal today's youth must achieve tomorrow, Aggarwal congratulated the faculty at Bennett University for its dedication in bringing out the best in every student, and assisting them in realizing their untapped potential. "This Independence Day, let us reaffirm our commitment to nurturing a generation that is not just academically accomplished but also morally conscious," he added to a thumping round of applause.
In her first formal address as the new Dean of Student Affairs, Sinha expounded on the many meanings of liberty with a poem in Hindi . It translates, "Freedom to a poet is a pen that never stops, to a hunter an arrow and to the prey, freedom is refuge from that very arrow."
Emphasizing the need for student's to be proactive in their academic year ahead, Dr. Sinha used 'earnt bread' as a metaphor for freedom, driving home the point that students must not look at freedom as a bestowed gift, for it can lead to a sense of entitlement. She expressed her will for all Bennettians to do their part in contributing to society, a practice that needs to begin right from classroom level, up to society.
"Freedom is not just political independence, but also about pushing the barriers of human achievement. It is your energy, passion and determination that will shape the future of this country," she added, expressing her ideals of how students must view their duty unto society.
In this aspect, education has a paramount role, for with the right approaches and guidance, students will begin to see themselves as having responsibility unto a larger society – a position which Bennett University will continue to maintain as articulated above.
(The writer is a Semester III student of BA Journalism and Mass Communication programme)