PUBG fills freshers 2K19 with zeal and zing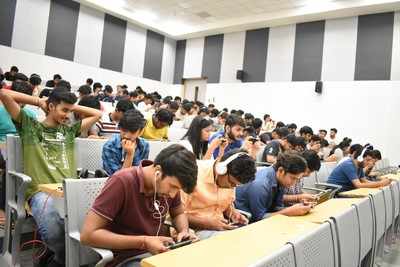 By Paridhi Gupta

Pulse, the heartbeat and the gaming club of Bennett University, organized a tournament of Playerunknown's Battlegrounds mobile, one of the most popular battle royale games on 5th September, Thursday. It was the first gaming event organized for Freshers 2K19.

The squad comprising Aditya Agarwal, Kanishka Pandey, Rohan Sahu and Ragghav Rathi bagged the title of winners and won the cash prize of Rs 800. The one-man army Akhil Sai won a cash prize of Rs 200 in the solos event.

Since the tournament was the first-ever gaming event for Freshers 2K19, it witnessed an active participation even though it was held a night before the freshers' party Blue Moon 4.0. A wave of joy and healthy competition could be seen among the participants. With 25 squads and 20 solo participants, the tournament was a massive hit.

"It was an enjoyable experience for sure and we had been waiting for a gaming event for long. Since I have already won a couple of Pubg championships earlier, it was easy for me to defeat the others," said Rohan Sahu .

Just before the tournament began, the hall was filled with hoots and cheers. After a mock round, the final round took place, which was played by the 25 squads and lasted for a slightly more than an hour from 8:30 pm to 9:45 pm in lecture hall 101N in N block. Meanwhile, solos played a short round of 15 minutes. In total three rounds took place which were thoroughly enjoyed by the students. Sarthak and Abhishek, who got the maximum number of kills, were energized and happy about beating the winners also.

Akanksha Tyagi, Secretary of Pulse, when asked why they opted to organize a Pubg tourney, said, "Firstly, we had to arrange an event on a very short notice and secondly there were numerous requests by the students for Pubg as it is the talk of the town." The participants were also asked for feedback in the end where they felt that the cash prize could have been more.