Quick on Wits with Cultural and Lit Events at Uphoria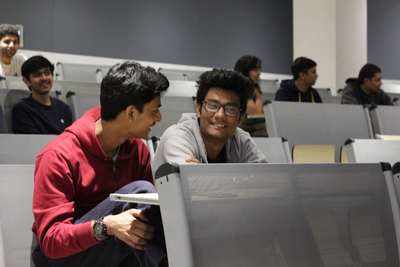 By Devyani Verma

The grounds of Bennett University (BU) echoed with harmonic chants as the theatrical performance of Nukkad Natak took place on the second day of Uphoria 2020.

The Street Theatre competition, Aakrosh – an event organised by BU's Dramatics Club Ansh – focussed on 'Mental Illness & Well Being' and saw participation by teams from various colleges. The teams which participated had come from institutes such as Vivekanand College, Delhi College of Pharmaceutical Sciences, Shaheed Sukhdev College of Business Studies, Rajdhani College, and Guru Gobind College, Delhi University, among others.

The competition saw a tough battle between voice, expressions and wits as the participants passionately delivered their performances. One of the two judges from the panel, Deghpreet Kaur Lamba, 2nd year BJMC student, shared how each group's presentation on the theme was a refreshing sight for the onlookers.

The 1st position was bagged by Shaheed Sukhdev College Of Business Studies, who won a crash prize of Rs 10,000. "They won because of the way they played with the theme, they brought in little everyday issue which were affecting the brain in ways we didn't realize," said Deghpreet.

"They portrayed the issue of water shortage in villages in a very beautiful way, how that was impacting rural India and their mental well-being," she said.

The next set of Cultural and Literary events consisted of a Pop Quiz, hosted by BU's Literature Club Cerebrum on Day 3 of the Fest. The quiz consisted of multiple rounds, in which each participating team had to perform well in order to obtain a winning cumulative score.

With each round, the level of difficulty escalated, going from generic questions – such as the most spoken language in Africa – to tricky and specific ones – such as questions related to the famous boy-band Backstreet Boys. The last round of the quiz was Cerebrum's famous Buzzer round, which saw chaos in the hall as the teams tried to wrack their brains for quick answers.

The Pop Quiz ended with Team Gaitonde on top of the tally with 30 points, followed by Team STP, who earned a score of 20 points.