Nomad Club's photo contest puts spotlight on travel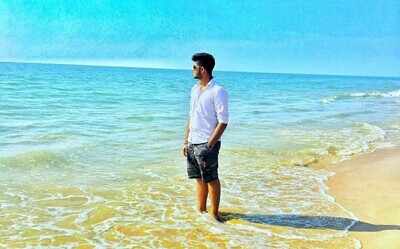 This photograph submitted by Yuvraj Jandara of BBA-III won the contest.
By Anushka Agrawal
Nomad Club of
Bennett University
organised '
Safarnama
2020', a
photography
contest for travel enthusiasts, that culminated on October 28. It spotlighted photographs as a way to take people back to their travel memories even as the Covid-19 pandemic continues to hold up new plans.
(The poster inviting entries from BU students for Safarnama 2020)

Yuvraj Jandara of BBA-III was declared the winner. The criteria for selection of photograph was based on the originality of the photographs, which had to be travel shots with the participants in the frame. In the winner's case, the background was adjudged as "natural and fresh".
(Yuvraj Jandara's winning post)

Nomad is a BU cultural club that focuses on "learning by touring". Members explore the culture and customs of different places and acquire set of new learning experiences by travelling and touring.
For the October-end contest, which saw 24 entries, the method to participate was:
Follow Nomads Club on Instagram
Put up a story on Instagram with the concerned picture/video for the contest
The time limit for videos: 15 seconds
While putting up the photo, tag Nomads Club along with #Safarnama
The last date for submission of entries was October 28
(Club secretary Kabier Malik, seen here during one of his journeys, described himself as a 'hardcore' traveler)

The secretary of the club, Kabier Malik, said, "For me, the meaning of life is to travel."
(Club member Swadha Singh, as seen here during one of her adventures)

Core team member Swadha Singh said about her entry, "I think the picture is a clear indication of who I am as a person."