Sports, key to a healthy life: Zumba Trainer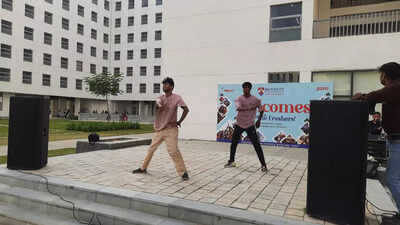 Mr. Tim Tim and Mohit Singh holding warm-up exercises during the sessionPicture by Shreya Singh Chandel
By Shreya Singh Chandel

"For complete physical fitness, it is essential to work out in the open, inhaling fresh air and not within the bounds of four walls," says Zumba trainer Tim Tim, as he put students at Bennett University through the Zumba drill to mark the beginnings of the Fresher's Week, 2023.

The exercise session started off at 7 a.m., since it is considered the best time for working out.

"It was actually a wonderful way to wake up a university full of students who begin their day after 12 pm," said Niharika Lal, a second year BAJMC student on waking up early in the morning.

Mr. Tim-Tim stressed the fact that Zumba was a way more effective method than gyms for weight loss and maintenance. He explained that it was because establishing a connection with nature and inhaling non-air-conditioned oxygen works wonders for the human body. And an aura of enthusiasm is created in the light of outdoor exercises and cannot be recreated in gyms.

Mr. Tim-Tim took the session along with his assistant instructor Mohit Singh, as the students warmed up with light exercises.

However, what came as a surprise to the participants was the touch of spirituality which was later added by Mr. Tim-Tim to the session.

"A person who practices Zumba should focus on connecting with their soul, through music. Even a head roll should be performed while keeping every muscle movement in mind. It helps in clearing the mind as a whole and gives the exercise more substance," said Mr. Tim- Tim.

An activity was conducted during the event where the participants were told to close their eyes and contemplate 3 things. The first one being their existence in the cosmos, the second one being how they are the center of their own universe and the third one being the 'always asked but never answered' question of 'who am I?'

A tune was played as a background for the activity and every high and low note reminded participants of various points in their life.

"This session had an incredibly positive aura. It made my day a whole lot better," said Yashna Gupta, a second year BAJMC student who participated in the session.

The session ended on a high note with participants brimming with zeal, motivation, and dopamine.