Stepping into the world of communication with RJ Divya at TSOM orientation 2023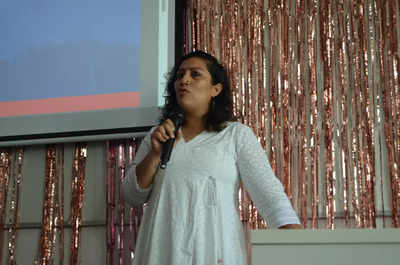 RJ Divya addressing the new batch of Times School of Media students.
By Shubh Bhardwaj

The last session of day 1 of the Orientation of TSOM freshers concluded with a power-packed session by RJ Divya from Radio City.

"How many of you thought that you have taken Mass Comm. as a course so you are cooler than your friends with Physics Honors or BCOM honours", as the students were hesitant to raise their hands, she said, "You are right."

She described how her career as an RJ took off and how her ability to talk about everything came into use and now she gets paid to do it.

The session focused on increasing self-confidence and giving motivation to students that they can make it big in life, "if you think you will be able to fulfil your parents' dreams at the age of 18, then you cannot but give yourself 3-5 years and you will be able to do it," she said.

Podcasts and radio are audio mediums that are very powerful, audio gives power to not just the speaker but also the listener too to interpret the message in whatever way they want to.

In her session she also made the students play a game in which they introduced their fellow mates by describing them uniquely which will help them remember the person in public and give such introductions which would create the image of a person in one's mind. This visualisation helped students communicate without the use of visual communication and boosted their confidence as they addressed their batchmates.

"The event was a huge success as we received a lot of appreciation for the work we did, RJ Divya gave us a lot of insights on the communication industry and the prerequisites to be in it and the most essential one, being happy," said Hemant Kumar, head organiser of the event.