Students, teachers shake a leg on Teachers' Day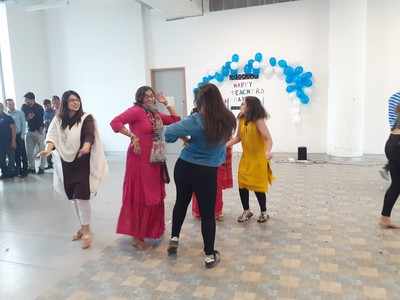 By Tejaswini Mittal

Organized by the Mess and Dorm Committee with music club Advaita, Bennett University's first proper Teachers' Day celebration was a hit amongst students and teachers alike. The celebrations took place on Thursday during lunch hours in the M block cafeteria.
The main event was kicked off by Haaris Beg of BJMC 3rd year, who started by wishing all the faculty members a happy teacher's day. He then went on to credit the organizing committee for the event and gave a nod to the on-going band performances, courtesy of Club Advaita. The band entertained a few audience requests before the dancers from club Verve arrived on stage.
After two very energetic and impressive performances, the dancers began free-styling and some of the faculty joined in as everyone cheered them on. There was no room for shyness on the dance floor as everyone got their groove on and danced till they dropped.
Professor Sumita Vaid, also of the TSOM faculty, when asked about what she thought of the event, said, "I feel happy and proud because it's the students who make the teachers feel motivated. So, I think the real stars today are the students and it's because of them that we are able to be good teachers."
The event came to a close as the organizing committee and the performers got a few pictures clicked with the faculty – or so the audience thought. A surprise performance by Professor Ramesh Kumar of the TSOM faculty delighted the students who couldn't have hooted any louder. He sang a beautiful song which marked the end of the celebrations for the day.
"It's always a pleasure to perform for people, and it's especially rewarding to see the audience become so energetic and dance along with you. I love all my teachers and the entire faculty of the university. They are who help us become better people. A very happy teacher's day to all the faculty!" Member of Verve, Saumyata Tyagi of BA-LLB 2nd year spoke of her gratitude towards the teachers.