Students enjoy different food joints at Bluemoon8.0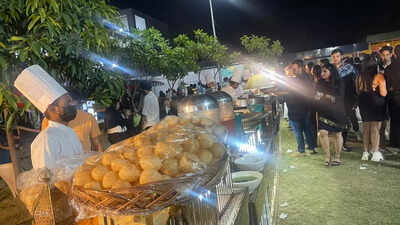 From Golgappe to pizza, Bluemoon 8.0 had it all to offer to the students.
By Pragya Singh

Bennett University welcomed freshers with a flourish at Bluemoon on Wednesday. The 8th edition of the event was held with the theme, 'Retro- Relive the 70s and 80s'. While the campus was abuzz in a blur of velvet shirts, bellbottoms and polka dots, the food stalls were one of the main attractions among the students. With an array of the favourite brands, students milled in groups for a break from the usual mess food.

Ranging from Biryani Blues to Berkos the students enjoyed everything from Hyderabadi to Chinese cuisine. However, golgappes remained a favourite among students as they milled around the stall through the crowd to get more.

While golgappes were popular among the students, there was more to offer.

"My all-time favourite has always been pizza, so Chicago Pizza here is the best", Shaurya Ahlawat, a third-year student said.

The fragrance of all sorts of food mingled in the grounds as the students laughed and talked while they migrated from one stall to another.

"I think it is commendable the level of hygiene and cleanliness that is being maintained by the food joints, especially given that they set the stalls very quickly", Abhay Jain, a BAJMC student said.

Content and full to the stomach, the students went back to watch the performances further as the party raged on.