Bennettians show their fresh factor at Fresh Face 2019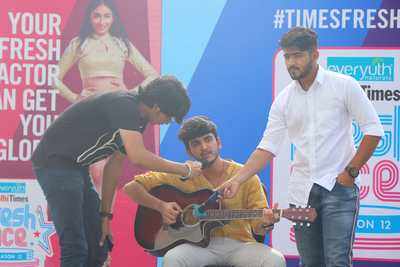 By Tejaswini Mittal

Rajnandini Rathi and Madhav Ginoria were awarded the titles of Ms and Mr Talented, respectedly at Everyuth Delhi Times Fresh Face season 12 which, after making their rounds at several other campuses across the country, finally landed at Bennett University on Thursday. Other winners were Pragya Sharma, Navneet Khurrana, Tanaya Pandey, Aryan Bajaj and Nehal Pandey.

The students were ready to show off their talents for a chance to win the titles of Mr and Ms Fresher as they lined up at the registration desk. The first round kicked off with each student displaying their talents for the Times judges and celebrity judge Anshul Chauhan to score. After the energy-filled round, the judges – with a lot of difficulty – shortlisted a few of the participants for the second, question-answer round.

The competition was shifted to a different location for round two due to the extreme heat outside, to a lecture room inside the building. Anshul Chauhan asked the contestants quite riveting questions like, "What does career mean to you?" and was provided with the answer, "Whatever you choose to do, it must be something you love."

Yash Khatri, the emcee for the event said, "Bennett University is one of the most happening audiences we have witnessed and the energy they are showing is amazing."

As the event came to a close, the winners were announced and the other participants were thanked for their enthusiasm and participation.