When music and comedy left the Bennettians spellbound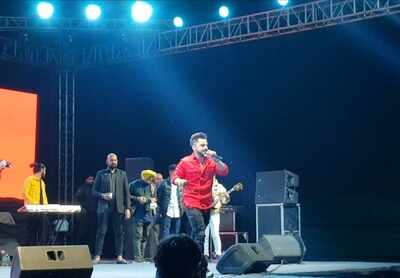 Milind Gaba's energizing performance left the Bennettians enthralled
by Mehul Tekchandani
Uphoria 2020, is something that the bennettians would never forget and that is because of a remarkable performance given by the two artistes Milind Gaba and Akash Gupta. The 2nd Night of Uphoria 2020 delivered a breath-taking performance by the singer Milind Gaba, which filled the crowd with immense energy. As Milind's jaw dropping entry captivated everyone's attention, the crowd realized the fact that Milind is not only a good singer, he is also great at connecting with his audience and vibing with them. The place was filled with so much energy that everyone realized the party had just begun and it will be a night to remember.

"I absolutely love Milind Gaba, it's not just his songs that I like, it's also his way of keeping the crowd engaged throughout the show, which impressed me" said Jhalak Agarwal, a BBA 2nd year student.

After a gripping and energetic performance, the crowd was once again waiting for something that would lift up their mood up and break the monotony of their daily lives. The very next night and the last day of Uphoria 2020 was a night full of jokes, because the stand-up comedian Akash Gupta, filled the air with laughter with his fresh out of the box comments, Punjabi references, stereotypical references and absolutely relatable college life jokes.

"The third day of Uphoria was the most awaited day for me, as I was eagerly waiting for Akash Gupta's performance which was amazing and kept the spark alive in me through-out the 40 mins show." Said Samyam Gupta, a BBA 2nd year student.