Why village women don't show up in election rallies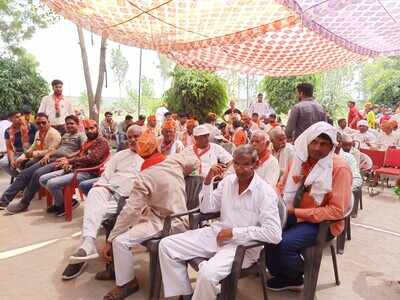 By Khushi Pal

When big party leaders and their army of party workers were campaigning from village to village, with promises of jobs and development, not a single woman was spotted in the gatherings. This came as a surprise to the students of Times School of Media, Bennett University, who had the opportunity to be a part the campaign trail of Lok Sabha candidate, Union Minister of State for Tourism and State, Dr Mahesh Sharma.

Upon talking to the young men who were shouting slogans and cheering for Dr Mahesh Sharma, students came to know that women were discouraged from voting and attending political meetings. Brijesh Yadav, 19, resident of Nagla Hukam Singh village said, "Our mothers and sisters don't participate in the affairs of the village nor their opinion is sought in political matters."

When students went to some homes to talk to the women, they found that the women were either feeding the cows in the backyard or cooking the evening meal on earthen stoves or tending to the children. The sight of city students drew curious looks from women in neighbouring houses who peeped from behind half open doors with their heads covered.

Sunita Kumar, 35 of Tirthali village volunteered to talk. Though she did not know the names of the MLA or the Union Minister, she mentioned the name 'Modi'. "I don't know anything about politics or the policies of the government. But I am aware about the Pulwama attack and the revenge the Modi government has taken for the death of the jawans. This makes our families feel protected and this is how we want to feel."

Poorva Singh, first-year BJMC student from Bennett, asked Dr Mahesh Sharma why women were not encouraged to participate in village politics. "It is true that women are not present in this kind of gathering yet they do practice their right to vote." Addressing the need to spread awareness among women, he further added, "Though there are women-based groups such as mahila morcha to encourage women to come forward and speak up on issues close to them, there's need for support and awareness from the youth."

But according to Maya Kasturi, a senior BJP party worker who has been working with women in the rural areas for more than 20 years, women are more aware of their voting rights than they were five years ago. "In fact, we know of instances when the village women have voted for a party the village men were against!" She added that higher education will make the young girls more aware of their rights.

Stressing on the need for educating girls, Dr Mahesh Sharma said the proposal for two Degree colleges has been approved, and "soon we will have more girls from Jewar villages going to a proper college."

Though at this point fewer women practice their voting right, higher education will pave the way for a more active participation in the coming times.