Words of wisdom from a salesman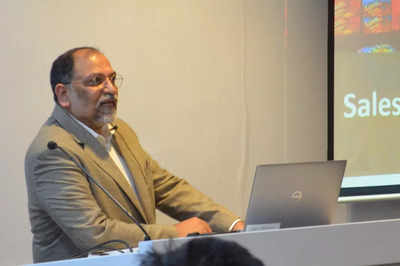 Mr Anthony addressing the students
By Medhansh Das


The
Times School of Media
's
placement board
organised it's second masterclass with Mr
Joel Anthony
, the CEO of
Compass
India Support Services Private Limited, a global foodservice and support services company. The first masterclass saw a more advertising approach, this session delved into the world of sales and marketing. Having worked in big known Multinational Companies (MNCs) such as
Philips
and
LG
, Mr Anthony had years of experience and knowledge that he shared with the students. His enthusiasm and dedication were greatly appreciated by both the students and faculty when they learned that Mr Anthony came directly to
Bennett University
after catching a flight from Mumbai, where he had attended yet another summit by the
Times group
(a summit held by
The Economic Times
).
His masterclass explored the world and life of a salesman, using various analogies and life stories of his own journey. "Sales can be a very rewarding career, if first you know to sell yourself" said Joel beginning his session. Mr Anthony imparted some precious wisdom saying, "The two most important things that I have learned in my 30 plus years in this career is, that your first impression is your lasting impression and second, great things never come from your comfort zone". Having worked in many international companies Joel told the students that different cultures can teach you different things.
"What are the qualities that you look for in a future sales employee before hiring them?" asked a
BAJMC
fresher to which Mr Anthony replied, "Fire in the belly, learning agility and good communication skills is all that I personally look for".
A few tricks he shared from his own experience as a salesman were that it was the small wins that kept him going and that a salesman is only as good as his last sales. He ended his session with a very thoughtful quote: "The grass is not greener on the other side, its greener where you water it".
All in all, this masterclass was yet another successful placement activity held by the Placement Committee, with more such professional coming for masterclasses in the near future.
(The writer is a Semester III student of BA JMC programme.)