YourDost: Empowering emotional wellness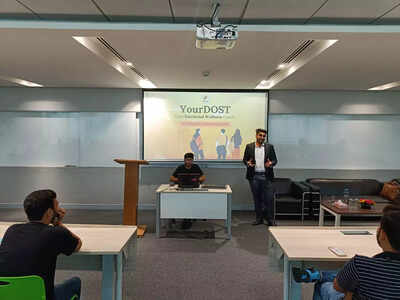 By Pakhi Dave
In a world where the pace of life leaves little room for self-reflection, Your Dost emerges as a guiding light. Catering to the emotional well-being of individuals, Bennett University recently hosted an interactive session with Chinmay Chadha, a seasoned Customer Success Manager at Your Dost. With a unique approach, the session encouraged participants to embark on a journey of self-discovery.

As participants closed their eyes, they were prompted to envision their lives two decades from now, luxuriating in personal accomplishments. Amidst the exercise, Mr. Chadha tasked attendees with a thought-provoking activity: crafting the title of their own autobiography and contemplating their legacy.

The conversation transitioned into discussing happiness-inducing activities. Attendees shared insights about their pursuits, ranging from painting to hiking. Mr. Chadha emphasized the importance of integrating these activities into daily routines through a simple yet effective tactic: writing them down and placing the list where it remains visible.

Addressing stress management, Mr. Chadha delved into the stigma surrounding counseling. He recounted the inception of Your Dost, catalyzed by a tragic incident where a student took their own life despite access to campus therapists. He highlighted Your Dost's comprehensive services, including anonymous, private, and 24/7 support. The platform offers diverse mediums like audio, video, and chat sessions, allowing users to communicate with over a thousand experts.

Noteworthy for its innovative approach, Your Dost employs technology to bridge gaps in emotional support. The platform boasts of a plethora of resources from awareness materials to self-assessment tools. Its user-friendly interface includes real-time connectivity to experts, showcased by the green dot indicator for online professionals. Additionally, the platform's blog shares personal stories of triumph over adversity, fostering a sense of solidarity.

In conclusion, Your Dost's impact is undeniable, serving as a beacon of hope and transformation for countless lives. Through its amalgamation of technology and compassion, the platform has woven a tapestry of emotional support, proving that nobody truly battles their challenges alone. With a 4.46 rating and 20 lakh+ sessions, Your Dost stands as a testament to the power of empathy in the digital age.