4 key candidates trail in UP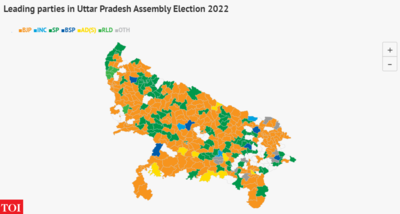 Map of UP assembly elections 2022
By Parth Sharma

Though the Bharatiya Janata Party (BJP) is winning in Uttar Pradesh, interestingly some key candidates who were expected to win in their own constituencies are trailing. Here is a list of four such candidates:

Deputy CM Keshav Prasad Maurya trails
BJP candidate Keshav Prasad Maurya is trailing behind SP candidate Pallavi Patel in Sirathu seat of Kaushambi, which is considered one of the hot seats of the state. Keshav is trailing SP candidate Pallavi by 3,386 votes in the second round.

Swami Prasad Maurya trails in Fazilnagar
Swami Prasad Maurya, who has a special influence among the voters of the non-Yadav voters of UP, is still lagging in the trends by 15,000 votes. Swami Prasad Maurya was a cabinet minister in the BJP government. However, after the announcement of the election dates, he joined SP. Maurya had contested from the Fazilnagar assembly seat. Surendra Singh Kushawaha is the candidate from BJP.

Rajendra Pratap Singh trails
BJP candidate Rajendra Pratap Singh known as Moti is in the second position with 11,618 votes while SP candidate Ram Singh is currently in the lead in Patti with 15,085 votes.

Congress leader Ajay Kumar Lallu trails
Uttar Pradesh Congress Committee President Ajay Kumar Lallu is trailing in Tamkuhi Raj constituency in the Kushinagar district. BJP's Asim Kumar is in the lead, followed by SP's Uday Narayan.