Badminton driving attendance at Sadopur school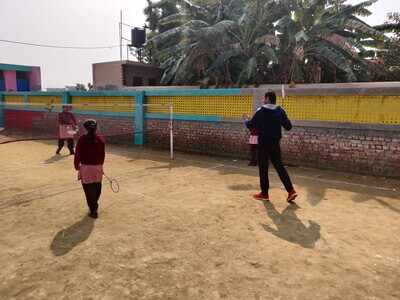 Playing various sports has always been known to teach students team spirit and make them fitter. For Sadopur School, however, the story is a bit different. Ever since the SRF Foundation constructed a badminton court in the school yard four months ago, more and more students have started attending the school.

"An increasing number of students are coming to school daily because they want to play badminton," said Pawan Kumar, the badminton coach at the school.

Over 30 students play badminton on a regular basis, informed Kumar. He added that badminton has resulted in an increased attendance in the mornings as well.

While the school continues to nurture the talents of all, four students have grabbed this opportunity with both hands and showcased their exquisite skill. The school management as well as the SRF Foundation is hoping that these four will one day represent the state in badminton.

"Boys play for an hour in the morning starting at 8 am. Everyone comes as early as possible to get their hands on the rackets and start playing," said Kumar.

Girls in the school also get an hour of playing time, starting noon.

Badminton has emerged as a tempting way to get the students to come to school; and the school has doubled down on it as well. All badminton players now get a packet of biscuit after they are done playing.

To lend another helping hand to the school, SRF Foundation, in conjunction with IndiGo – School Adoption Program, has decided to provide badminton kits and tracksuits to the students as well.

The local community in the village has realised the potential of the sport, which has resulted in the parents of various students also getting involved with the school regarding badminton. The school has organised various competitions for the students and motivated everyone to participate in the sport.