PMAY outlay increased to Rs 79,000 crore in Budget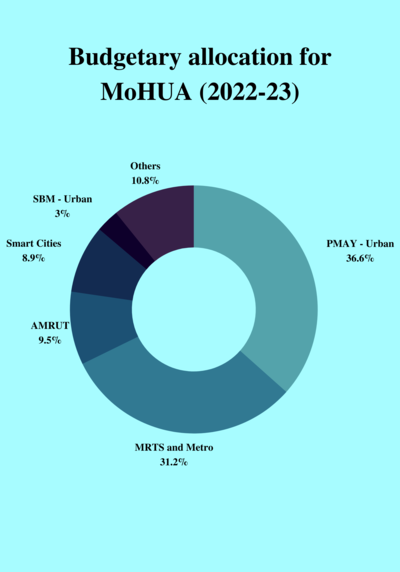 Source indiabudget.gov.in
By Pragun Mehrotra
GREATER NOIDA:
Union Finance Minister
Nirmala Sitharaman
presented the Union
Budget 2023
in
Parliament
today. In her speech, Sitharaman, while talking about the
Ministry of Housing and Urban Affairs
(MoHUA), said, "The outlay for
Pradhan Mantri Awas Yojana
(PMAY) is being increased by 66 per cent to over Rs 79,000 crore."
The 2023
budget
of Rs 76,431.60 crore for the MoHUA is a marginal decrease from last year's Rs. 76,549.46 crore.
"Rs 10,000 crore per year will be invested on
Urban Infra Development Fund
(UIDF)," she said.
While presenting the budget for the financial year 2023-24, Sitharaman said that like the RIDF, the UIDF will be established through use of priority sector lending shortfall.
She added that "11.7 crore household toilets will be built under Swachh Bharat Mission (SBM).
FM Sitharaman while giving her 5
th
Budget speech referred to the 2023 Budget as the 'First Budget of Amrit Kaal'. The 2023 Budget happens to be the last full budget of Prime Minister Narendra Modi's government before the general elections in 2024.
The allocation for the MoHUA saw a decrease of 0.15 per cent from last year's budget. Since financial year 2019-20, MoHUA has witnessed a gradual increase in its budgetary allocation.
Source: indiabudget.gov.in
In 2019-20 the budget for MoHUA was Rs. 42,054 crores and in the subsequent year 2020-21 the Ministry saw an increase of 11.04% in its allocation. In the financial year 2021-22, the ministry was allocated Rs. 54,581 crores whereas in the 2022-23 Union Budget, the allocation stood at Rs. 76,549 crores after an increase of 40.2%.
The last year's budget for the MoHUA focused on PMAY - Urban with Rs. 28,000 crores being spent on the scheme. Whereas the second biggest spent of Rs. 23,875 crores by the Ministry was on the Mass Rapid Transit System (MRTS) and Metro.
According to MoHUA the urban population in India is expected to reach 60 crores by 2031. This increasing rate of urbanization of the Indian population was one of the biggest reasons for the MoHUA to spend more than 36 per cent of its 2022-23 Budget on PMAY-Urban. The increase of 66 per cent to Rs. 79,000 crores in this year's budget can help solve the problem of rapid urbanization by timely construction of houses in both rural and urban areas.