Covid shows how spitting is a hazard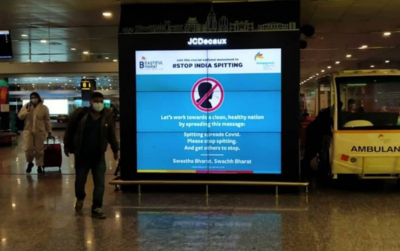 By Sharvi Sharma
BENGALURU:
Rampant
spitting
makes all precautions against
Covid-19
ineffective, as this habit of spitting, intrinsic to Indian culture, continues to transmit various infectious diseases.
Beautiful Bengaluru,
a
voluntary citizens
' initiative, working for clean, green, safe cities (now known as Beautiful Bharat) is driving the #
StopIndiaSpitting
campaign. It started in March 2020 with a petition and open letter to Prime Minister
Narendra Modi
to '
Restrict coronavirus and make spitting in public places punishable
'. They raised a red flag that continued spitting was a 'crucial missing link' in Covid prevention.
Stop India spitting campaign board at the airport in Bengaluru.
Odette
Katrak
, a Bengaluru-based human resource professional, soft-skills trainer, writer and co-founder of 'Beautiful Bengaluru', has worked on behaviour change at an individual level. "In the last 10 years, I realised the importance of change at a societal level, and shifted my focus," she says.
Katrak's realisation came early in the lockdown while looking at the street beneath her window, noticing people spitting. "We were being told about masks, washing hands but nothing about spitting – a huge gap."
The team's petition, open letter, social media campaign and media coverage all resulted in bringing this issue into the
national
spotlight. Spitting in public was made punishable and paan/gutka banned throughout the country on April 15, 2020, under the
Ministry of Home Affairs
' 'National Directives for Covid-19 Management' (page 9, points 5&6).
Beautiful Bharat's aim was not just a law against spitting, but to kickstart a movement and eradicate this social ill in a now-or-never chance provided by Covid-19. The law was 'a backdrop and deterrent' and the first step of a long journey to get India to stop spitting. This mass movement hinges on every resident getting involved. Awareness about diseases spread through spitting is crucial – as wearing a mask, sanitising and hand hygiene are not enough.
Another step was an appeal to the PM to address the issue in his 'Mann Ki Baat' address. "This was to ensure the message reached every corner, which happened on April 26, 2020, with the PM's specific mention making this a national priority, and the crucial message reached millions across the country."
She added that it was Spanish Flu in 1918 that got Western countries to finally address spitting in public places through mass campaigns, and this is a chance India cannot miss. The specific use of 'StopIndiaSpitting' as the campaign name is a call-to-action that involves everyone, including non-spitters, rather than focusing only on those who spit.
"We are asking all who do not spit to patiently explain the link between saliva and Covid-19, through incident-based or preemptive conversation. Ignoring a spitter won't help, shouting won't either. Our aim is not to shame or spark angry exchanges, but to spread realisation. Spitting brings shame to our country – in the UK, spitting is high in Indian-dominated areas. In our country of 1.3 billion citizens, enforcement cannot work; mass awareness is needed as most spitters do not realise the habit is dangerous," she added. "We ask them instead to use a toilet, carry a small container or just swallow – which they mistakenly believe is bad for health!"
"What started as a petition is now a national movement," Katrak says proudly. Increased messaging through radio/TV shows and a creative collaboration of signs, animated videos, art, music and other resources is helping spread the message to villages, towns, cities.
"We are networking through partners across states through the newly formed
Alliance
to StopIndiaSpitting. Influencers like Puneeth Rajkumar, Kannada film artist, and Dr Devi Shetty, noted cardiologist, are giving crucial support for the campaign. Kempegowda International Airport, Bangalore, has prominent messaging with CEO Hari Marar confirming a reduction in spitting.
Katrak ends optimistically, "We hope across the country, more will join #StopIndiaSpitting, because everyone must play their part!"
(Access signs in 14 languages + other resources at beautifulbengaluru.org. or mail
stopindiaspitting@gmail.com
)
The story first appeared in The Times of Bennett, the lab newspaper produced by the first semester students of The Times School of Media.