Dhakkis drum up festival fervour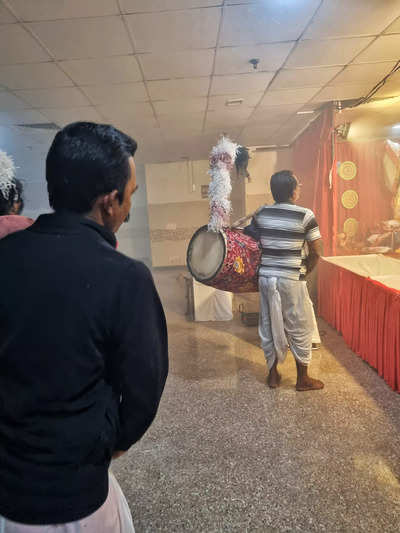 Dhakkis are seen playing at a Durga Pooja pandal in Noida.
By AARUSHI BHADURY
NOIDA: This year, on the last day of Durga Puja, dhakk artists
Nonigopal
Das, Kumar Das and
Shumon Das
gave a spectacular performance at the
Durga puja
festival, regaling the crowd in NOIDA for the 20th time.
"Without a Dhakk (drum), Durga puja feels empty," says Nonigopal.
Dhakkis
(traditional drummers) have been an integral part of the festival who travel around the world to showcase their art during Durga puja and other festivals like
Vishwakarma Puja
, Kaali puja and others.
However, lately, its popularity has waned and it is slowly starting to disappear from pandals with music CDs and speakers replacing them and the pandemic restricting travel and shows.
Nonigopal, his son Kumar and grandson Shumon have been performing together in pandals for two decades. Individually, Nonigopal has been in the trade for more than three decades, Kumar has been accompanying his father and Shumon is approaching his 15th year in the art.
Travelling from Howrah to perform in various parts of the country as well as internationally, the three generations of musicians in this family have singlehandedly kept this art form alive.
Nonigopal accompanied the 'Baul Fakirs' to London for their performance. "It was a great opportunity and we even got invited a second time," says Nonigopa. He added that "we already had a commitment to play for Durga puja and we wouldn't miss it for the world, because it isn't about the money, but the people we play for. I've even accompanied Kumar Sanu in a music festival but this is the place I'd rather play", he said.
The year 2020 took a huge toll on his business as Durga Puja is a prime source of income for him. "We bought tickets to come here but had to cancel them because the lockdown got severe. We somehow managed to stay afloat because of our jobs as electricians," says Kumar referring to his son and himself.
The two work in Goa for majority of the year earning as electricians, even though their main trade is being a Dhakki.
"That does not pay our bills all year round, and like many, pandemic hit us hard. Even our job as electricians was in jeopardy but we somehow managed to keep earning," Nonigopal said.
He now plans to retire. "I will now fulltime do what I love doing most -- playing the Dhakk. The pandemic can slow us down but it can't stop us!" Nonigopal, says proudly.
His journey of learning how to play the instrument wasn't an easy one. He practised outside in the harsh winters of Kolkata and used his hands instead of sticks.
"I practiced until my hands bled. My father taught me how to make my own Dhakk. I donated my first Dhakk which I used for 10 years to a temple for orphans and it gave me great joy to see them so happy," Nonigopal says.
He remembers the time he played for Prime Minister Narendra Modi in Raipur, on a short notice on the request of the musicians there.
"I don't claim to be the best Dhakki, but as long as I can make the listener happy, I'm satisfied," he says.
A Dhakki's job may not have a big money but it's because of people like Nonigopal Das, Kumar Das and Shumon Das that one can still enjoy this art. As Nonigopal says "Aami jaa bolbo, Aamar Dhakk'o tai bole. (Whatever I say, so does my Dhakk)," he said.