Diwali with a Southern twist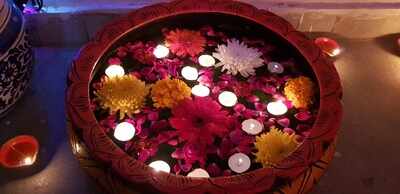 Did you know
Diwali
is celebrated in the morning hours in
Tamil Nadu
?
First and foremost, it is not Diwali but
Deepawali
which is celebrated in Tamil Nadu, because Diwali means bankruptcy for them. Though, Bhagwan Ram must have crossed the southern state the first while retuning with Sita and his army on his journey back from Lanka to Ayodhya but Deepawali in south is also associated with a story connected with Krishna and his consort Satyabhama. The day preceding the amavasaya or the no moon day in
South India
is called "Naraka Chaturdashi" and is the main day of the Deepawali celebrations. It is believed that Lord Krishna and Satyabhama had killed demon Narakasura on this day.
A day before the
Naraka Chaturdashi
a clay pot is smeared with lime, filled with water and religious symbols are drawn on them. This water is used the next day early in the morning before dawn to take oil bath. This is a very important ritual which signifies washing of blood by bathing in oil by Lord Krishna after killing Narkasur. People clean their homes and decorate them with kolam which is made from rice paste or powder and red clay. Everyone wears new clothes kept ready a day before, women adorn their hair with flowers and together the whole family offers prayers before eating sweets and gorging on other Deepawali savories. All this happens even before the sun rises. On the Amavasya night, prayers are offered to Goddess Lakshmi for prosperity and it is expected that she would visit them in the night when all are sleeping. It is said that in earlier days, doors were kept open for the Goddess to come and settle down in the house to ensure wealth & prosperity in every breath of life and generations thereafter.
Podcast:
Diwali in three different continents
https://spark.adobe.com/page/yW36D3omz2ErC/
A Multimedia Project by Mishti Menon