India hit hard at cricket T20 World Cup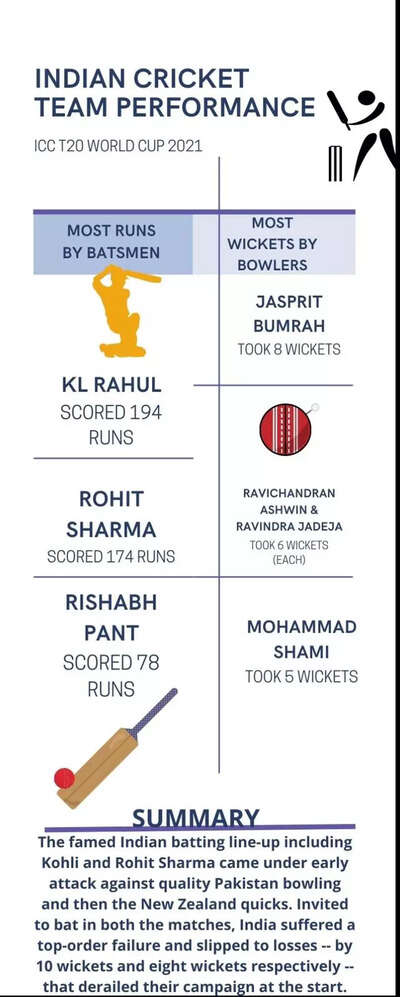 By Shreya Sharma

KASGANJ: Virat Kohli was sacked as the ODI skipper four months after India performed miserably at the UAE T20 World Cup under his command.

But what went wrong with India, one of the strong teams in the shortest format?

Despite having exceptionally talented players like Kohli, KL Rahul, Rohit Sharma, Jasprit Bumrah and Mohammad Shami, the team lost miserably to Pakistan and New Zealand in the Group stage, a defeat not taken well by either the fans or India's cricket board which cracked the whip on Kohli after he reportedly refused to step down.

Sanket Tripathi, who has been heading cricket teams as a coach in schools, puts it as India's worst performance in T20 World Cup. "Poor team selection and lack of co-ordination among players was the primary cause of India losing its survival match against New Zealand. New Zealand's bowling was commendable. But Indian batters' slow run rate made their job easier," he added.

Aanchal Jain, a Team India fan, said one should support the team in its bad patch. "All of India and the players are disappointed and shocked. India has played well internationally, but this year, luck wasn't on our side. Hopefully, for the next tournament our players will get enough time to prepare and relax as opposed to this year's pandemic bubble," she said.

Among the many tweets from fans, one said, "Everyone should feel bad for Kohli as he always gives his 200 per cent and yet he ended up on the losing side."

Another fan tweeted that he wanted to see Kohli in vintage form, playing without fear or pressure.

All this said, what were the reasons of India's poor show? From IPL fatigue to poor team selection, many factors could be identified as contributors to India's defeat. Let's take a look at things that didn't work for India at the UAE:

Bubble and IPL fatigue: India's T20 World Cup Indian squad played the prolonged IPL in a COVID–19 bubble, which turned restrictive both physically and mentally. They were constantly moving from one bubble to another. The players had been isolated from home and family for six-months contributing for their ill-preparedness. Also, playing two major tournaments in a row was a burnt out.

BENCHING ASHWIN: Preferring an inexperienced player like Varun Chakraborty over senior spinner Ravindra Chandra Ashwin in the crucial matches against Pakistan and New Zealand backfired for Kohli and team. Once Ashwin was included, Jadeja and he spun magic but it was too late.

TEAM SELECTION: Many were baffled by selectors not opting for top performers in the IPL like Ruturaj Gaikwad, Yazuvendra Chahal and Sanju Samson. The original squad of 15 spinners and only three pacers was already unbalanced. Hardik Pandya was not fit enough to bowl, which disturbed the overall balance of the team. Against Pakistan, India's explosive top order was dismantled.

BOWLING SLUMP: Spearheads like Jasprit Bumrah and Mohammad Shami failed to make any impact in the two significant opening matches. That Pakistan won by 10 wickets was the shocking story of India's poor bowling performance.

Against New Zealand, Bumrah struck only twice with neither Chakraborty or Jadeja managing to pick any wickets. India's famed bowling looked less than ordinary.

Notably, cricketers from England, New Zealand and Australia chose to stay away from IPL's second half to focus on World Cup preparations while the BCCI put more emphasis on cash-rich IPL as opposed to the world cup.