Job cuts took away purchasing power during festivals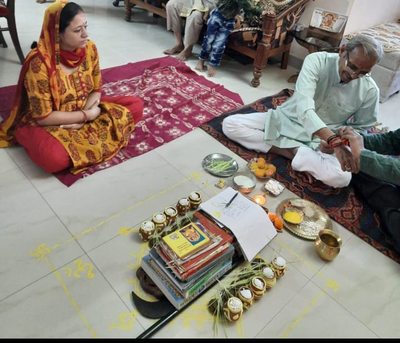 By SASHA RASTOGI
SAHIBABAD: It was a subdued Durga Pooja and
Dussehra
here this year due to COVID-19 constraints and many people having lost their jobs due to the pandemic.
"The pandemic has taken the enthusiasm and fun out of festivals with only a few having the purchasing power to make festival purchases," local resident
Sushma Rajvanshi
said.
Traditionally, families here celebrate the occasion by performing rituals and gathering in the evening to see the burning of Ravan's effigies. However, due to the pandemic, very few and small effigies were lighted this year.
Even the Sanatan Dharm Mandir had carefully curated rules to prevent the spread of the virus. "We have posted notices everywhere asking the devotees to wear masks. Also, a foot-operated
sanitiser dispenser
has been placed at the entrance," temple priest Harbhajan said. Until a month ago, the temple had removed albells and had requested all to bring their own 'lotas' - small containers - and 'Diya's' - clay tealights - as a preventive measure.
The temple had only 8-10 people but not all were wearing masks. Due to the dip in cases, people may have started taking protocols lightly. However, this Dussehra the business was far from brisk as not many people are still stepping out.
"Sales during Dussehra this year have dropped by approximately 40 per cent as compared to pre-Covid time Dussehra time," said
Sumit Mittal
, owner of the well-known Sagar Saree Emporium
Shopkeepers from a couple of more shops in the market gave a similar response.
Customers are just about trickling in. Mittal says, this is owing to fact that many people lost their jobs due to COIVD-19 lockdown and rising unemployment has led to the loss of purchasing power.
"Also, people are still avoiding venturing out fearing the deadly virus," he added.
Mittal is one of the few businessmen who has continued to pay his workers.
"It depends on people's thought process, but when profits in the business go down, it does affect you both mentally and physically ". These times are unpredictable and pandemic end is still unforeseen.
"These are testing times and coping with it is not always easy. "However, safety comes first and we must co-operate until we can celebrate festivals with unbridled joy," Mittal said.