Kids shift from private schools to govt schools in UP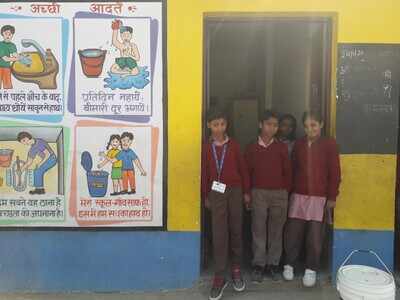 Located in Ghodi Bachera, a small village in Greater Noida, the Upper Primary School (UPS) has seen a massive upgrade in its infrastructure and the way of imparting knowledge. The change in the school, earlier known as the Junior High School, saw a few students leaving private schools to join this government-run school.

"Some of our students, who used to study in private schools, came to this school as their parents saw the potential in the school as soon as the infrastructure of the school was revitalised," said one of the three school principals, Kusum Lata. "We never expected a shift like this."

The school was renovated even as necessary amenities such as drinking water facilities, library, and science laboratory were constructed. This infrastructure development took place when IndiGo adopted the school as a part of its CSR initiative to let children enjoy the journey of learning.

There are over five students who changed their schools. One of them is Deepanshi, the current head of the Reading Club of the school. She said, "I like this school better than my previous one. Earlier, I was not able to explore my interests as there were not many activities in the school and we were given a lot of home works homework."

Answering what is the best part of UPS, she said, "Everybody gets the opportunity to be a leader. Today I am leading the Reading Club and learning the art of being a leader, in another month or so, somebody else will get the same opportunity." She added, "This school gives every child a fair fighting chance."

Education is among the other areas of focus undertaken by IndiGo; the airline has impacted the lives of more than 30,000 children since 2015. The programme is aimed at the integrated progression of adopted government schools across India.