Reading becomes biggest learning aid for students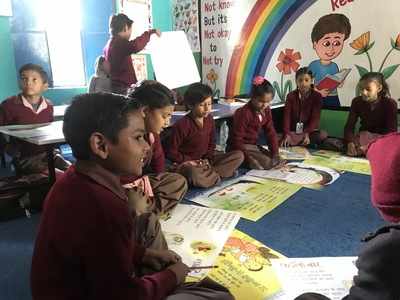 Students during the weekly reading club meeting at the local government school Bhirondi, Greater Noida
The library at the local government school in the village of Bhirondi in Greater Noida has been transformed to be used as a great learning aid for the children. The reading club at the school has been running since the transformation assisted by Indigo Airlines and SRF Foundation.

The new library caters to the needs of students on the basis of their reading abilities. The books available have been divided into five Reading Levels starting from simple picture books and advancing to books on science and autobiographies.

Children are encouraged to read books in accordance with their level. "The different reading levels ensure each child is understanding what they are reading. Our aim is to have books for everyone, even those who are just learning to read and write," said Librarian Anamika Yadav. She said the books were being used as easy learning aids complementing the curriculum books, which gives the students an opportunity to explore and learn new things.

The library is open to students of both the primary and pre-secondary students. Each class gets the opportunity to visit the library twice a week. Other than the designated days at the library, the books are used during classes if required.

The library is also a place where students are being taught to take leadership and responsibility of the books owned by the school. The reading club constitutes 10 students from both primary and pre-secondary schools who have the responsibility to manage the library along with the teachers.

Shivani, head of the library club at the primary schools, said, "Our teachers have helped us learn a lot while reading. It has been a big boost from the time when we couldn't even read the level one books."

"The reading club gives us the opportunity to read a lot more about topics other than our curriculum. It has given me the confidence to write poems on my own," said Gayaprasad, a student of Class 7. He has also been awarded the post of Head of Academics for his dedication and zeal.

The school is one of 15 in the region which have been transformed to ensure quality education for students with limited resources. The project which is a part of Indigo Reach programme is facilitated by the SRF Foundation.