Science lab becomes success story for Sadopur School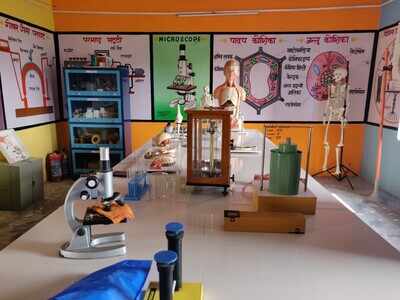 "You can't learn science by rote!" These were the words of the teachers at Sadopur School who were struggling to get their students to understand the practical aspects of physics, chemistry, and biology.

Before the intervention of SRF Foundation and the IndiGo – School Adoption Program, the teachers found it really hard to conduct practical assignments in physics or explain differences between plant and animal cells, or even conduct chemical experiments. All that changed when Sadopur School got its science lab.

Students and teachers alike at Sadopur School said in unison that the science lab has been one of the most defining features at the school.

Teachers now conduct weekly practical demonstrations for physics, chemistry and biology experiments. Students also have access to reading material in the form of journals and lab manuals which guide them through experiments.

"We are really happy with the lab. Students are always excited to go to the lab now. The manual and journals provided by the SRF Foundation have been a big help for the students. Some of them even come up to us and suggest experiments of their own," said Meenakshi Gupta, who has been teaching science at the school for over 2-and-a-half years.

The science lab of Sadopur School has benefited from the intervention in more ways than one. Using a technique called Building As a Learning Aid (BALA), the SRF Foundation has managed to transform the rather bland walls of the school into an educational front. The walls have been painted with eye-catching colours, and as the name suggests, they are being used as learning aids. Each wall painting has information about different elements of the subject. For example, diagrams of the human eye, plant, and animal cells have been vital for teachers while explaining students about the human body, or things around us.

The walls surrounding the science lab are painted with BALA paintings as well. Paintings about the water cycle and the process of photosynthesis have been used extensively by teachers to educate students by using a more visual medium.

The science lab also helped the teachers in an unprecedented way. Many of them had been trying to instil the habit of washing hands regularly with the students but were failing to achieve it. One day, students were being shown the existence of bacteria and germs under the microscope. Once the students saw the bacteria for themselves instead of just hearing about its existence, they were alarmed about their own hygiene. What followed was students washing their hands with soap before and after each meal as nobody wanted to fall sick.