Under Covid cloud, Diwali too fails to brighten sales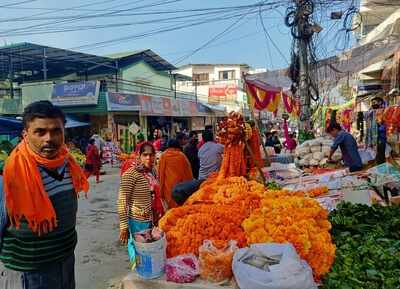 Market all decked up ahead of Diwali in Dehradun. (Photo: Vartika Madan)
By Vartika Madan
The Covid-19
pandemic
has pulled everyone's morale down for several months now, and the festival of
Diwali
was not unaffected either, particularly for shopkeepers and vendors who bank on the "festival season". Traders in Dehradun suffered like many others across the country.
Market all decked up ahead of Diwali in Dehradun. (Photo: Vartika Madan)
The flower, diya (earthen lamp) and decoration item vendors said their sales remained "merely okay" this Diwali.
Despite taking precautions, such as keeping sanitisers and wearing masks, the vendors said they were not able to reach half the sales that they had achieved last year. "We buy decorations in bulk every year before Diwali, but this year it felt like it went to waste," said Tara Bisht, a local Diwali decoration and
diya vendor
in Dehradun.
Shopkeepers had high hopes from the festival rush, but expectations were not met. (Photo: Vartika Madan)
Flower vendors were also frustrated. "Every year on Diwali I sell flowers that I order from Kolkata. Usually, the flowers sold out by 11 am on Diwali but this time we did not even sell half the stock," said Deshmukh Singh, who irons clothes for a living but turns
flower vendor
during this season.