Varanasi 'cleanest Ganga town' ranks 30th in Swachhta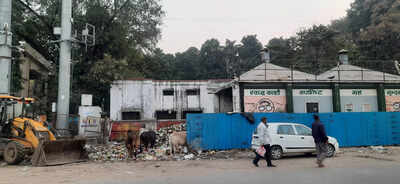 Varanasi is Prime Minister Narendra Modi's constituency in Uttar Pradesh.
By PRAGYA SINGH
VARANASI: Prime Minister
Narendra Modi
's constituency
Varanasi
secured the 30th position in
Swacch Survekshan
2021 but it emerged as the cleanest
Ganga
town in the nation. While the city has improved on the index, it still has a long way to go.
Varanasi, one of the 18 cities from
Uttar Pradesh
to make it to the list, was once infamous for its dirt and litter.
"We have been doing extensive cleaning of garbage, especially before monsoon to avoid blockage of potholes and drains", Gaurav Jaiswal, a Junior Revenue Inspector in the Nagar Nigam said. Residents agree that the Nagar Nigam has done its bit. "The entire city was a mess. Garbage was thrown on street sides. The municipality has woken up and is finally doing some work,"
Saim Ansari
, a student at Banaras Hindu University who moved to the city in 2014, said.
Shiv Raj Prasad
, an ex-official at PWD who was born and raised in the city, affirmed that Varanasi is getting its share of schemes and projects because it is a high-profile constituency.
"This is all to Modi's credit. Ever since the city became his constituency, it has got a face lift. Otherwise, it would still be the same old Varanasi," Prasad said. However, there is also another reality that paints a poor picture of the city. While the garbage is collected from everywhere, the dumping grounds are overflowing with trash spilling onto the roads. Some feel the city is clean, others disagree. "My locality's condition is the same as it was 10 years ago, if not worse," Preethi Kumari, a housemaid, said. Cleanliness is restricted to well-off parts of the city, she added.
The 2020 Centre of Science and Environment report listed Varanasi a city along the Ganga which dumps 60 per cent of the population's excreta into the river. While Ganga is clean in the Adalpura, when viewed from the ghats, the water is murky.
Ghats are also used as cremation sites.
"The dead bodies of children are not burnt as they are pure. They are discharged in the Ganga," Raghu Dom, a cremation worker, said. Ashes of all bodies cremated on the ghat are also immersed in the river, he added.