When the going gets tough, Nandita gets going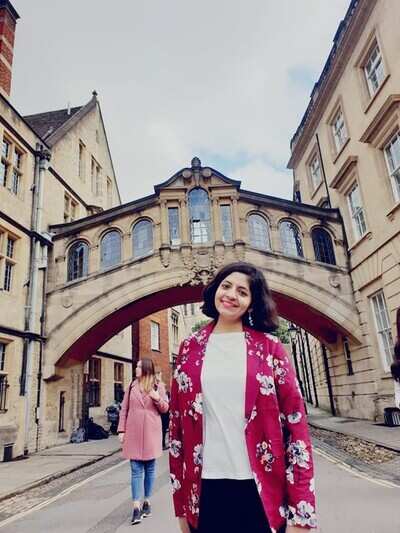 By Vidhi Goswami
MUMBAI: The life of Nandita Venkatesan is an epitome of the adage, "When the going gets tough, the tough get going". In her fight against tuberculosis, she lost 80% of her hearing ability and, most importantly, she lost hope. Just like any protagonist in a motivational story, she bounced back, picked up the pieces of her life and eventually made a name for herself in journalism and is now studying at Oxford on full scholarship.
Nandita first encountered tuberculosis in 2013 when she was just 18 and was cured after a prolonged treatment. However, she had a relapse in 2017. As the treatment progressed, she faced a sudden hearing loss as a side effect of an injection. At the age of 24, normal life was a distant dream for Nandita. She could see nothing but pain and isolation with her personal dreams falling apart.

'I felt like a loser'
"I felt like a loser as I wasn't able to do anything," said Nandita. Because of her hearing loss, she stayed at home and stopped going to work. Nandita said that she faced plenty of hurdles and every step forward in her life was challenging.
"I believe that when things go down, they eventually come up. It is easy to go down, but difficult to come up," said Nandita, who is doing her master's in public policy at Oxford.
However, all that happened to Nandita only made her stronger and she decided not to give up. She took to Bharatanatyam to overcome all the problems she was facing.
One day, her dance teacher called Nandita and asked her if she would like to give a public performance. "I declined the offer as I was not able to hear anything. But suddenly it dawned on me that if I am able to perform, I would be able to face the world," said Nandita. For her, dance is not just an art form but something through which she is able to express herself.

Working for society
Giving back to society, Nandita along with Riya Lobo, another TB survivor, has started a foundation, 'Bolo Didi', to spread awareness on TB. "Bolo Didi is a community where we talk to people who are suffering from TB. While facing this infectious disease, it becomes difficult for many to relate to you. So, we speak to patients as well others," said Nandita.
"The stigma around TB is that only poor people are exposed to it, which is a pathetic notion," Nandita pointed out.

The story first appeared in The Times of Bennett, the lab newspaper produced by the first semester students of The Times School of Media.