Pallavi Singh on shattering glass ceilings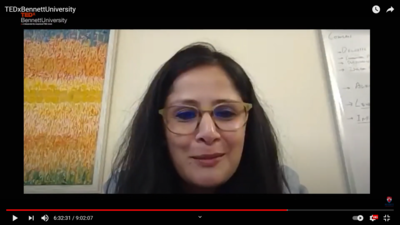 Pallavi Singh, the marketing director for BMW India
By Srijeeta Ganguly
From
Yamaha
to
Harley Davidson
,
Morris Garages India
, this person has seen it all in the automobile industry. And now she heads the marketing for
BMW India
.
Pallavi
Singh has broken the glass ceiling in many ways. Being in the automobile industry, generally dominated by men, Pallavi is known for being an exceptional leader, a passionate writer, good at marketing for the
automobile industry
and for having the most charismatic personality. At a young age, she managed to become inspiration for many youngsters.
Speaking at Tedx Bennett University she shared ideas about how to break the glass ceiling that many women are trying to break. "Women are also trying to move around obstacles, battle prejudice in our daily lives," she said. Pallavi shared glimpses of her professional life on how she learnt it in the hardest way possible and made her way through obstacles and experiences that she had in her career. Pallavi shared a quote that she learnt from her mentor: Four wheels move your body, but two wheels move your soul.
"Today many women experiences challenges at work and challenges that are beyond the ambit of work pressure, deliveries and performance which are equally experienced by our male colleagues. Primarily, society is driven by men and hence the same thing happens at our workplaces too. Such setups create natural barriers for women. I had one of the most supportive male mentors while working in the industry but at times men find it difficult to fully support and appreciate these barriers because the norms or setups seems very organic. It is the way our society is brought up and it will take time for the society to change."
Speaking about gender diversity, she said, "It should not be just a number or a lip service. In fact, a lot needs to be done through programmes, trainings to understand the need of equality as to how it can benefit the organisation and not just a feel-good factor."
"Coming from a middle-class background all I knew was to work harder and harder to help achieve my dream. After getting placed at Yamaha, I truly understood about the entire structure of an automobile industry and then my love for machines knew no boundaries. Women should be comfortable in their own skin and everyday many women are aspiring to do new things but the most important thing it is to keep our identity safe. Women who wish to succeed in their work or in their life need to be good at what they do but need not be the best at what they do," she said.
She concluded by saying that dreaming big is always good, aspiring but having dreams to conquer whatever one wants is very important. Her message for women: "Commit, perform and execute your aspirations with a lot of enthusiasm and to have great mentors who can be strict but also navigate your path."