Keeping up with the Instagram algorithm in 2021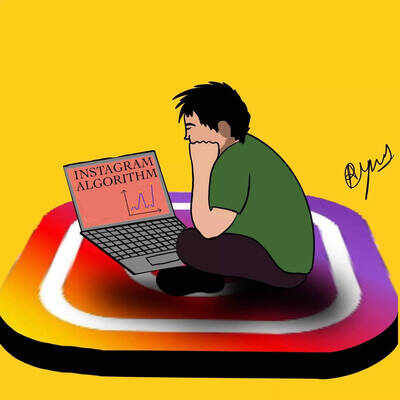 By Ayush Khurana

It goes without saying that content is king regardless of the medium. This truism manifests itself differently in different situations. For instance, Instagram has changed its algorithm and forced its users to focus on their content.

"Talking about the Instagram algorithm of 2021, this was a big transition comparing to the previous year's algorithm, it has become stricter which has made us more serious about our content," said a user, Ashutosh Bhatia.

Before 2020, when the Covid-19 pandemic hit the world, life was easier and hassle-free just like the Instagram algorithm. Getting desired number of likes and views on any type of content, be it a post or an IGTV (Instagram TV) video. This platform was very convenient in terms of getting reach for the so-called social media influencers.

What is 'Instagram'? Instagram is an American photo and video sharing social media platform in which, there are more than 1 billion users active on it. Instagram is not about influencers or marketing; it is a platform where you can connect to your friends and families. Here, we can see various types of users present, from social media influencers to big business companies. It is one of the most renowned social media platforms known for its privacy and the quality of the platform it provides for creative type of content, for bloggers and many people.

Instagram is the only platform where users post content in terms of photos or videos, can do video calls, go live, and interact with their followers. And Instagram is a source of Income for many bloggers and social media influencers.

Ashutosh Bhatia, 18, who is from Delhi and makes content on Instagram said, "Before 2021 posting content and getting maximum number of views for any social media creator was a bliss. There were fewer competitions and getting videos viral or sponsored was a cakewalk. Posting content and getting views was less of a hassle."



The strategies adopted by Instagram to increase its popularity are unique . Its main competition was with TikTok, where a user can publish a video on any topic, be it informative, funny, or creative. and it should be less than 30 seconds. During the lockdown, many people saw the growth of TikTok in terms of the number of users. The engagement on TikTok was increasing daily while it was decreasing on Instagram.

When TikTok got banned in India and in many other countries due to Sino- Indian border tensions, Instagram took advantage of the space in the market by changing its home page layout.Weeks after TikTok was banned, Instagram launched 'Reels'.

Reels is like TikTok, wherein any Instagram user can publish videos under 30 seconds and it is located at the bottom of the Instagram home page.

With the inclusion of Reels, Instagram's user field became very wide, and its user average started to increase daily. After the inclusion of Reels, an average user's Instagram usage time increased to 6 hours.

After the addition of reels on Instagram in 2020, people got views on their videos within a snap. The main reason behind this was that people started putting hashtags such as #fyp#reelitfeelit etc.

These hashtags became popular within a month, and people started getting reach and their reels/ videos started to go viral.

This brings us to the algorithm of 2020; where hashtags became a weapon to tackle the algorithm successfully. When we put hashtags, it reaches more people and there is a possibility that the reel/ video goes viral.

For example, if any Instagram user uploads a video/reel with some hashtags which are widely popular or trending during a week, his/her post can reach more people and go to the explore page.

Coming to the Instagram algorithm of 2021, it has become stricter, getting views on Reels/videos in 2020 was easier compared to 2021. The most disheartening development to almost everyone who creates content is that hashtags don't work in 2021. Without hashtags, it has become very difficult for a person to gain reach.

Now, to beat the Instagram algorithm, one must post consistently, ensure that people like one's content so that they can save one's reel and share it on their story.
Ansh Arora, 19, who lives in Lucknow, is a music producer. He makes content on Instagram related to music, mainly comprises old and new song remixes, making his beats on an old Bollywood song and singing his verse. He said, "Instagram algorithm in 2021 has changed almost everything now, I have to plan my content before uploading, I make sure that people engage with my content and like it". One of his reels touched half a million, just because people liked his content and found it interesting. He also said that" I have started making content which people like, so that my videos can get more reach.

Aryan Batra, who lives in New Delhi, is a content creator and has his own YouTube channel running successfully. He makes short vines also known as short comedy videos.. He makes content on Instagram related to comedy and his main aim is to make people laugh and entertain by his content. "I have seen that in 2021 Instagram has drastically changed, now planning content regularly and engaging with the audience has become a necessity. Keeping up with the trend is a must to make sure that my viewers are entertained." Aryan said.
Arsh Bhatia, who is in Class XII and an artist, currently living in Mumbai said, "Now, we have to plan our content and post accordingly. Being an artist, it becomes very difficult to show consistency as it takes several hours to complete one project. However, the flip side is we are becoming more knowledgeable about Instagram, which might benefit us in the future."

Comparing the algorithm of 2020 and 2021, people have become more serious and responsible about their content. Planning and uploading on time has made the content creators more aware.
POST REGULARLY: this is one of the main strategies to beat the Instagram algorithm of 2021, now to gain more reach. One should post content more regularly. It is recommended that one post at least 2-3 reels a week.

SAVE AND SHARE: Another element to make your content go viral. One needs to make sure that people like the content one makes, so that they save and share one's reel/video. The algorithm focuses on how many people save one's reel. If an increasing number of people save one's content, then it can go to the explore page.

ENGAGE WITH YOUR FOLLOWERS: Start engaging with your followers, ask them through polls that what type of content they prefer.

For example, if you upload a reel, it will only reach your followers and others. To ensure that it reaches more people, your followers need to save the reel and share it on their stories.