Women forced to defecate in open: 'Unsafe, unhealthy'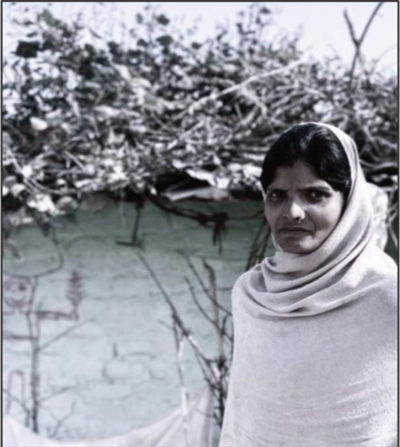 Rani Kumari in front of her house. Photo: TOB
By JANVI BANDA
LUDHIANA: There are more households having mobile phones in
India
than people having access to toilets and clean sanitation, which is a basic right of every citizen in the country. Unfortunately, this is one of the issues that India has not been able to handle successfully in all these decades.
Rani Kumari, 46, who lives in Dugri, a village in Ludhiana, said, "There are no proper toilet facilities in our houses, not even common toilets. There should be one at least for women. Women usually use open areas which is unhealthy and unsafe."
"When there are no standing crops, it gets more difficult for women to go out in the open because then there is no privacy at all," she added.
As per the
World Health Organization
data, India leads the world in open defecation. This also leads to spreading of diseases such as cholera and diarrhoea, especially among women and children.
"A single gram of faeces contains millions of viruses, bacteria and parasitic cysts, and contributed to nearly 100,000 diarrhoeal deaths of children under five years in India," stated a report by the United Nations International Children's Emergency Fund. It added that poor sanitation also negatively impacts the lives of women and children by crippling national development, which leads to workers living shorter lives, producing and earning less .Women having to defecate in the open at odd hours not only threatens their dignity, but their safety as well.
Kumari said that girls and women are expected to either defecate at night or in the wee hours when most people are asleep. "It is scary, but they don't have a choice," she added.
Vidya, a 16-year-old girl from the same village, said that during the menstrual cycle, it gets difficult to use the open space for defecation. "It is
unhygienic
, but we have no option. My friends and I go out in a group so that we can cover each other. That protects us from trespassers," she added.
Vidya wants the issue to be dealt on priority by the Government.
"Local politicians visit our village with the promise that they will provide us with proper sanitation facilities, but no one fulfills it. We don't need false promises, but just a toilet," she said.
(The story first appeared in The Times of Bennett, the lab newspaper produced by the first semester students of The Times School of Media.)
Join exciting programmes offered by Bennett University