Even now, I get stage fright: Veteran singer Usha Uthup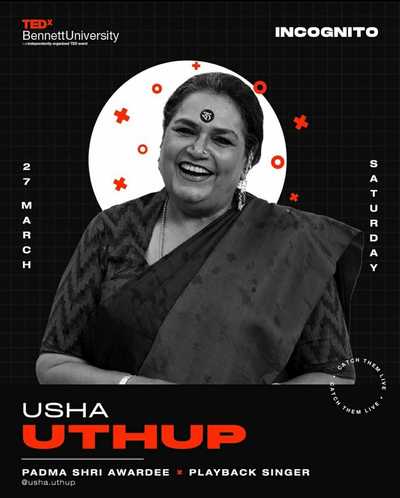 By Samriddhi Bisht
Padma Shri awardee and singer
Usha Uthup
owned the BU
TedX
stage with her all-so-powerful and charming personality. She left no stone unturned when it came to talking about herself in an incognito mode. "My mind, my music, my face, my body language is like an open book for people to read but there are still some things that people don't know about me. I would like you all to know that about me," she said.
Usha was candid about her younger days. She is the fifth child in her family and she and three of her sisters are all singers. Usha says she was a good student in school and college and she used to love writing with an ink pen. Usha then revealed a relatively unknown fact about herself. She said, "Funny thing about me is that, unlike people who write their name while testing a pen for the first time, I never did that. I never wrote my name." Many years later a handwriting expert told her that people who don't write their names with new pens are the ones who don't believe in themselves. She said, "After I learnt this, I started to introspect about myself."
It was a speech with many revelations. "Another unknown fact about me is that I fear a lot of things. I know I look so strong and in control of everything but in reality, I too have my own set of fears. I am afraid of the dark and water," Usha said.
She spoke about her insecurities. 'I am always petrified of getting on stage. I always dream of strange things that decipher as dreams of insecurities. I have a lot of insecurities," she said.
Signing off, Usha said, "I focus on getting communication across through my work. Be it be in any language, I always look forward to people loving my work."
The report has been written by Samriddhi Bisht, a student of BA (Journalism and Mass Communication) of
Bennett University
.)
Join exciting programmes offered by Bennett University