Creativity is God's gift: Vivek Agnihotri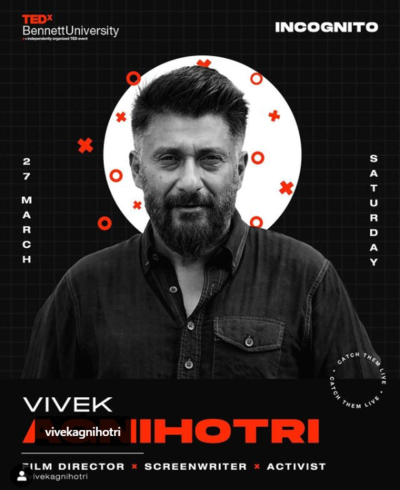 By Apoorva Kashyap

Vivek Agnihotri, a filmmaker and author, talked about 'creative consciousness' and how it gets lost as children grow up in the virtual TEDx event hosted by students of Bennett University on March 27.

In his talk with the students he discussed how creativity is vital to human beings. "God has given us two greatest gifts which are breathing and creativity," Agnihotri said.

He mentioned a survey conducted by National Aeronautics and Space Administration (NASA) that found that while 98 per cent of the children are creative between the age of four and five, only two per cent of the same set of children retain their creativity at the age of 20.

The filmmaker said schools, society and the entire ecosystem guide children to be obedient and structured thought machines and that kills their creativity. "The entire school system is designed to make you idle and steal your creativity," Agnihotri said.

He pointed out how everyone is trained to impress others and by the time people realize this they are already 45 to 50 years old. "Some of us, while trying to find our creativity end up going to sadhus which again makes us idle," he added.

He went on to talk about how success is not about making money and having millions of followers on social media. "Real success lies in leaving a legacy," Agnihotri said. He advised students to be fully aware of whatever they do in life. "Whatever you do in life, do it with full awareness and this is when you will become a part of creative consciousness and you will be successful," he said.