Happy Us continues to spread happiness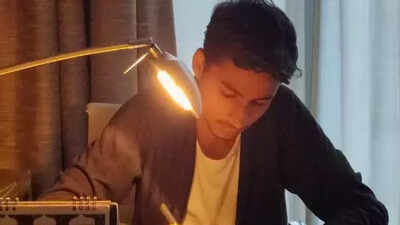 By Vartika Madan
It's been just two months since the
mobile app
Happy Us was launched but it is already grabbing many eyeballs and getting positive reviews from its growing network of users.
Apoorav Jain, a BBA student from Bennett University, is the founder of the
mental health awareness
app 'Happy Us'. Jain and his team launched the app on June 28 this year.
Happy Us
aims to help people dealing with the COVID-19 pandemic-induced
stress
and loneliness.
When asked about what gave him the idea to start Happy Us, Jain said, "I did covid relief volunteer work and soon realised that even people close to me are feeling stressed and depressed due to the
pandemic
. None of them were ready to take therapy due to the social stigma around
mental health
issues and the high charges of doctors or therapists. So, I thought of launching this platform, which will allow people of the same age group to interact with each other".
The platform helps you interact with a volunteer, who will have conversations with you about any problems that you are facing. You can choose a volunteer-based on his or her interests and book an appointment. At present, the platform only caters to people within the age group of 18 to 24 because the volunteers are also within the same age range.
The Happy Us team does free volunteer sessions, but if after two to three sessions they feel that the user needs psychological attention, they will arrange a paid session with a psychotherapist or psychologist.
On the app, there is also a section for helping children, who lost both their parents during the pandemic. Jain said, "We see there are a lot of WhatsApp messages about orphans needing a home, but these messages don't give any clear instructions on how one can help these children. We provide guidance on helping orphans and how to officially approach these children following the required protocols".
"Our logo is like a cookie. I was eating the round cookie biscuit with the ones which have a smile on them, and this design came to my mind. I wanted to convey
happiness
because I wanted the logo to make its viewer smile," said Jain.
One of the app's users requesting anonymity said, "I stumbled upon the app via Instagram, a bright pink face was in my recommendations one day. I followed their social media. After a week, I downloaded the app and eventually gave one of the volunteers a try. I wasn't looking for help or friends, but it was my curiosity that led me there." She then continued to review her experience with the volunteer and said, "I will keep using the app for the stories, the talks, and the memories it gave me. It definitely adds value to my life".
The app keeps its users' data anonymous. According to the Happy Us team, one of the reasons to keep it this way is that people are stigmatized about mental health and stress, and they don't want to talk about it. So, keeping user data secure and user's name anonymous makes the user more comfortable. They currently have 20 active users.
Another user said, "I felt embarrassed and left the conversation in between due to my shyness and introverted nature. But the volunteer, very sweetly, invited me back to the conversation which boosted my confidence and helped me continue".
Alongside the founder, Jain, works a team of seven people – co-founder Shivam Verma, technical heads Rithik Bhandari & Shubham Verma, creative head Chetna Dua, communication head Aashie Chaudhary, social media head Rishab Pandey, HR head Bhanvi Aggarwal, and operations head Kshitij Vaibhav.
(The report has been written by Vartika Madan, a student of BA (Journalism and Mass Communication) of Bennett University.)
Join exciting programmes offered by Bennett University