"Even if things are falling apart, be positive"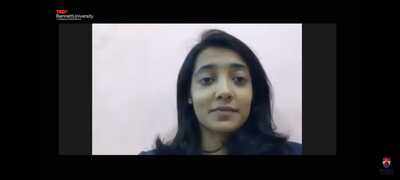 By Sharon Varghese
In 2018,
Bhargsetu Sharma
was just 20-years-old and an aspiring NCC cadet. While on a picnic with fellow cadets at Mahi Sagar in Rasalpur, Gujarat, she saved a young boy from drowning. Speaking at the Tedx Bennett University event March 27, Bhargsetu spoke about why people must be kind and value coexistence, based on her experience.
For her valour, Bhargsetu is the first woman in India to receive the Raksha Mantri Padak Award and is also the recipient of the Governor's Award for her heroic act .
Bhargsetu emphasized the importance of spreading goodness and the need to see goodness in people around you. She said people's judgements are clouded by their first impressions of others, but "one must first get to know them before jumping to conclusions."
"Our lives depend on things unheard and unseen, we believe in a higher power and many other things, similarly I believe in the power of humanity, which is something we should lead our lives with," she said.
She reiterated on the fact that we grow and develop 'sanskaras' from our families, friends and society. During this journey it is important to remember inculcating the 'sanskars' of promoting health and happiness around. "Humans with Humanity has this motto of accepting people around us, people may or may not like animals and want to be around them, but we have the control of having a positive outlook around us and towards every living being."
Bhargsetu spoke about coexistence in society and being open to learning from each other's experiences. "If we want to make our voice heard, we first need to be listeners, who understands what the society and nature wants to tell us," she said.
On self-motivation, she said, "There are times we need to be the joining force of our lives even if things around us are falling apart, keeping a positive and giving perspective can turn any situation around."
The report has been written by Sharon Varghese, a student of BA (Journalism and Mass Communication) of Bennett University.)
Join exciting programmes offered by Bennett University