Covid taught us to slay different variants of stress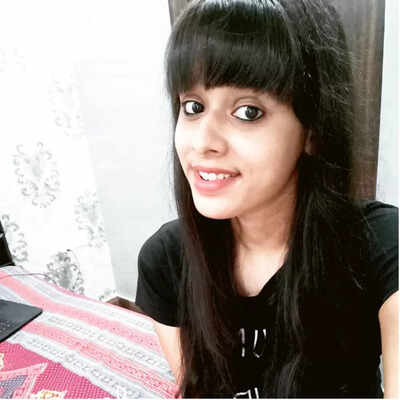 Shagun Saxena flaunting her precious smile after beating the Covid stress
By Surbhi Kaul
The
Covid-19
virus didn't just prove fatal to some and bring misery to many. It also instilled a morbid fear of being infected and caused new types of
stress
.
Shagun Saxena, a student at Delhi University, went through chronic
Covid stress
last November, her whole family was positive and realized the seriousness of the disease. "I lost three people in my own family in nine days and it was traumatic. I had never faced something like this in my entire
life
. I started to have
anxiety
attacks," said Shagun.
According to a study conducted by a Delhi-based mental health service platform, The Centre of Healing (TCOH), 74% and 88% of Indians reported stress and anxiety respectively. Since the
pandemic
hit the country, followed by an unprecedented lockdown, cases of Covid stress had increased.
This stress was not just in one form but came in multiple forms. The virus triggered the stress of losing a job, family relationship issues, no social interaction, being stuck at home, etc. But loneliness and grief over losing a near and dear one provoked stress and anxiety on a large scale.
"With the coming of the second wave of the virus, people are struggling with grief because many lost their loved ones. The worst part is that there is no social support to help people struggling with grief," said Kriti Kaul, a mental health professional. She said that the time needed for this grief to heal is getting extended because of the pandemic. The ramifications of this grief will be seen in the coming months.
The virus left a trail of destruction, so to speak, in the aftermath of the infection among victims. The impact was both physical and mental. Arya Anil Kumar, a junior architect who had contracted the virus, said, "I can clearly see a difference in my strength and energy level and I am not able to focus as much as I could earlier."
Others simply broke down mentally. "Covid stress immensely affected us. Physically dealing with the disease, then seeing my parent in the critical stage. The thought of losing a father was a mental setback as I wasn't ready for acceptance," said Nidhi Chauhan, Research Assistant at DecodeDNA Pvt Ltd. The anxiety stemming from the situation lowered the physical immunity of people and they became more negative, irritable and some felt helpless. People were helpless and hopeless about the situation.
Psychologist Sonia Dhar asserted that mostly the first question asked by people is, when will it end? "That's the first question people ask me and even I ask myself. No one knows the answer right now and anyone who says they do is simply making a lot of assumptions. Those assumptions are important, but they need to come with the caveat that there is so much uncertainty," said Dhar.
Despite all this, people fought back by coming up with ways to cope with this stress. Meditation, art, talking to friends on the phone, healthy eating, mindfulness, etc., helped the majority to defeat the stress. Faith was also one of the ways people adapted to deal with this stress.
According to the mental health professional, Kriti Kaul, a very important coping mechanism for people was faith in a higher entity or faith in God. Drawing, sketching, and art kept their minds busy and art helped people to build a bridge between the Covid stress and positive thinking, eliminating the negativity. "Art and creativity became a perfect escape for me. Hence, to cope with the Covid stress I drew, made paintings, sketches and tried to learn different art forms," said, Shreya, a student of B. Com Hons at SRCC.
Positivity played a vital role and became the key for people to overcome the hurdles and struggles they were stuck in. Acknowledging the feelings that people were going through and making the perception positive was what kept them going. Nidhi Chauhan, Research Assistant, said, thinking that the flower would bloom instead of worrying that it would wither was what thinking positive meant. Nidhi added that she and her family kept themselves positive amid the situation and faced the hurdles bravely. "Dealing with this situation where my father was battling for life and we had no financial help was difficult. But we faced the challenge with our changed thinking."
Listening to music too became a perfect coping strategy. When listening to music, the soul turned calm, uncertainty withered away and Covid stress became manageable. "I bought Spotify subscription just to continuously stay connected to music because it helped me to keep my mind diverted," added Shreya.
With the coping strategies came the realisation that they could succeed in fighting off the stress caused by the pandemic. People came to understand that keeping themselves busy was a good way to combat the Covid stress. "Yes, I was successful, the methods actually helped me. I started getting my mental peace back. I started accepting that we are in a pandemic and took the necessary precautions," said Vrinda Goel, a BTech student.
Aarushi Narang, an independent counselor, said that her clients really did find such recommendations helpful."Themain reason behind the success was the realisation that they were responsible for their own wellbeing and they're following it up with action. Apart from this, giving importance to self-care has a significant impact."
However, some were still stuck and trying to figure out how to de-stress themselves. "I don't have a solution to the Covid stress as I am figuring out a way to get things back on track. I shall definitely love to share my success story but after I manage to cope with it," said Arya Kumar.
There were some who learned new lessons by merely living through difficult experiences. "From this pandemic, I have learned a lot of things. I have understood the real meaning of life. We don't know what's going to happen tomorrow, seriously we don't," said Shagun, who had lost her grandfather to Covid-19.
She said that even the day before it happened, no one in the family thought it was coming. "We had no idea that we would lose him the next day. He had a cardiac arrest due to a low oxygen level. Everything happened all of a sudden," Shagun added.
Shagun said that from the shocking experience of losing a family member she had learned the importance of enjoying every moment in life. "Smile as much as you can. Find happiness in little things. Spend time with your family and friends as much as you can. Don't hate anyone. Be the reason for people's happiness. Start apologising for your mistakes and start forgiving more," said Shagun.
Others learned to cherish small things, be grateful for what they have, and stay strong. The indispensable learning was taking mental health seriously and not losing hope.