How awareness can help 'detoxify' relationships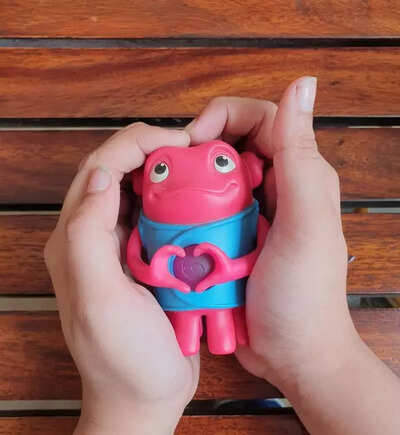 Empathy is the antidote to toxicity in relationships
By Soumyaa Swarup
Simran wanted to go out for a walk but her brother, who often behaved like a control freak, stopped her saying it's quite late in the evening and hence not safe outside. Simran, who is from the
GenZ
generation, started to argue with him as she is independent by nature. After the heated argument, she termed her relationship with her brother 'toxic'.
Nowadays the word, 'toxic', is used in a normal conversation to describe the end of any relationship. People have different opinions regarding this word. According to psychologists, the word 'toxic' means a relationship that lacks empathy. Empathy is the ability to put oneself in another shoes. Sympathy exists in a relationship when an individual puts people under him or her. When a partner starts taking another person for granted or is just insecure and seeks control over his or her partner without being willing to understand the partner's feelings. This is how an actual toxic relationship looks like. It can also exist in friendships or in a parent-child relationship.
Avani Priya belongs to the GenZ generation and is a student who claims experience in toxicity. She said, "Any relationship where a person gives false expectations to somebody else and lacks love and respect can be termed as toxic." Nithya Ravi, who belongs to the millennial generation, defined toxic
relationships
as, "When a person thinks he or she has the power or authority to control someone else life."
Prachi Pratap Singh, a professional counselling master for the past 5 years, said "Toxicity can be subjective for people." If a relationship has domestic violence, then it can be any form of violence either in the form of control, manipulation, or hurting someone mentally and physically.
Prachi, who is a postgraduate in applied psychology from the
Tata Institute of Social Sciences
, Mumbai, and has worked on various social problems such as domestic and sexual violence, toxicity can manifest itself in different ways.
People believe that it is normal to have possessiveness and jealousy in any kind of relationship as it is a sign of love and care.
Rachna Ramesh Kumar, a postgraduate in applied psychology from the Tata Institute of Social Sciences, Mumbai, said, "Relationships become toxic over time." In the case of a romantic relationship, initially there is always a honeymoon phase wherein everything seems to be perfect.
People are not aware of the fact different types of toxicity can exist in a relationship such as -:
Belligerent Behaviour: Sometimes there is a situation when a partner makes fun of his or her idea or wants.
Overdependent Behaviour: When a partner controls a person in a passive way. This usually happens when a person is dependent on someone and does not allow himself or herself to make decisions.
Authoritative Behaviour: This usually happens in a parent-child relationship when a person produces guilt in someone else and starts stating what they have done for a person in the name of love and care.
Psychologists believe that toxicity exists in a relationship and if not at the start of the relationship, then it might take place after the passage of time. Social media apps have made it possible to interact with people across the globe and hence it is commonplace to talk about relationships there.
Prachi elaborated, saying, "After the #metoo movement, which started in 2018, talking about relationships on social media has become common now. People are more aware and cautious about it and the main effects were observed in the younger generation."
Rachna said, "During the retros (the 1980s and 1990s era) period, talking about mental health was not considered healthy as there was a lack of awareness." Earlier, people were also not financially stable enough, especially women, whose job was to look after their husband and family. The evolution of technology and the internet has also played a major role.
The GenZ generation has been exposed to social media and dating apps like
Tinder
and
Bumble
. The unregulated content which is displayed on the OTT platform should also be considered. Millennials feel that the GenZ generation is not tolerant enough and is not aware of the consequences to face the harsh reality of this world as they are bold enough to take their stand. They are aware of their needs and feelings, and they are often displayed as selfish people in the public domain.
Avani said, "If the needs of our generation are not being fulfilled by a particular person, then they come up being brutally honest with people which can hurt someone else's feelings." She said that people are egoistic and selfish at the same time as they cannot compromise on anything.
The toxicity which exists in a marriage tends to arise if it is patriarchal. Couples do not respect each other and sometimes the involvement of family members and society often makes the circumstances more poisonous. Even today in some parts of India women are asked to keep their head down and work silently. There is also an adage in Hindi, "Log kya kahenge?" (How will people react?) if the couple is divorced.
Prachi pointed out that earlier, family members often used to ask the couple to have a baby as it would dissolve the problems they were facing in the marriage. She said, "Extending families in such situations is not correct as after the birth of the child it impacts the child's mental wellbeing.
Unreasonable expectations from either of the two persons in the equation can be the reason for arguments. Nithya explained with an example and said, "If there is a wife who wants to live in a house alone with her husband but not with her in-laws so that she can live peacefully." She explained this is how false expectations arise due to expectations of unreasonable things.
Rachna explained how culture can impact the expectations of people. She said, "Western culture is about independence and individuality but in Indian culture, couples believe in forever relationship (saath janam) and this is another example of false expectations."
There is also a circumstance where a partner feels that his or her partner is toxic in nature but still, they want to live with them. This happens because of the fear they do not end up being alone in their life.
Professional psychologists suggest that if a person is going through mental stress, then it is better to see a therapist or psychiatrist as they can guide anyone. It becomes easy to figure out a bad relationship and the toxic behaviour of a partner. Even if things are not getting better then it's better to take a break away from a relationship because it is important to give yourself time and an equal amount of love and care that you are giving to someone else in any kind of relationship.
To keep any relationship alive, it is important to give a partner their space as well as mental peace. Taunting and manipulation can ruin any beautiful relationship.
Self-care and love should be the priority. Equality and communication are the keys in a relationship as this leads to a fruitful conversation between two individuals.
Join exciting programmes offered by Bennett University