3 'friends of nature' in Assam work to save the planet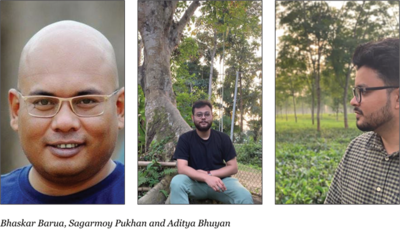 By SAANYA BORAH
NEW DELHI
:
Environment
is defined as everything that surrounds us but everyone views it differently.
Given the recent circumstances, the
environmentalists
have given their opinions on environment,
climate change
,
pollution
and health.
Bhaskar J Barua from Kaziranga, Assam, works in the field of eco-tourism,
conservation
and farming. He runs a trust called 'Kaziranga Foundation', which works towards empowerment of the local community working on conservation issues. Barua's house is built using 70 per cent of recycled materials.
It is also powered by solar energy, including solar water pumps, water heaters and campus lighting. He said that the evolving technology in sectors like non-conventional energy sources, electric vehicles, shared and efficient public transport system, procuring and patronizing local foods are some areas where we all need to work on.
"With the increasing awareness towards environmental protection, and the fact that the young generation has taken the lead in this sphere, I believe the earth to be safe in
future
," he said.
Sagarmoy Phukan from Dibrugarh, Assam, is an expert on climate change and
sustainability
issues. He is also a Ph.D. student at SEI York. His interest in environment developed because of the
Paris Agreement
which brought in the concept of sustainable development to the world platform. Phukan says, he started noticing climatic change in 2013. "The trends of temperature have been changing each year. Even though we might have the coldest winter, yet the average temperature is rising each year," Sagarmoy said. As EIA Consultant, he has monitored air pollution and several industries in India.
Phukan stated that environmental toxicity has caused diseases like Minamata disease, cancer and many others. He believes that there needs to be a combined effort, policies and lateral thinking and an integrated effort on the people's part to combat and reduce pollution.
Aditya Bhuyan is a research analyst in the field of air pollution from Assam. He believes that people are dependent on the environment for livelihood as well.
Staying in harmony with environment will not just help in conserving but also protecting it for the future generations. In many locations all over the world, with climate change frequency of rainfall has increased manifolds within a short period. Bhuyan analysed that there are cumulating of reasons for such high concentrations of pollutants in Delhi, stubble burning in the neighboring states of Punjab and Haryana, climatic conditions of landlocked Delhi, dustsand huge traffic as well as construction debris.
"Behavioral change among the general public is must to change their perception and work towards the betterment of the environment," Bhuyan said.
Everyone has a different story but, their journey and efforts towards keeping Mother
Nature
sustainable for future generations is inspiring.
(
(The story first appeared in The Times of Bennett, the lab newspaper produced by the first semester students of The Times School of Media.)
Join exciting programmes offered by Bennett University